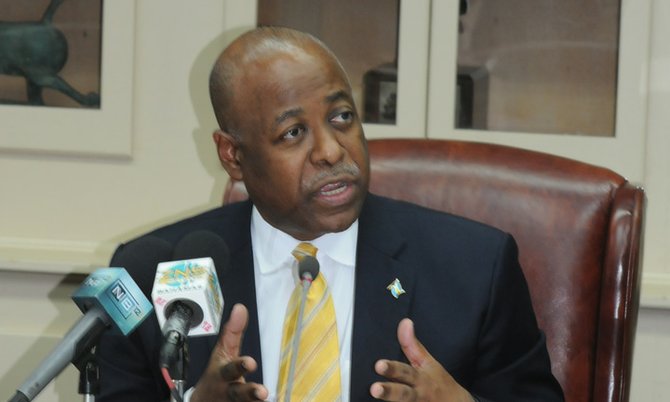 By RICARDO WELLS
Tribune Staff Reporter
rwells@tribunemedia.net
A day after saying he would not contest the leadership post of the PLP if Prime Minister Perry Christie sought a re-election bid, Tourism Minister Obie Wilchcombe suggested that if he were to become the nation's leader he would work to restore the "gross national happiness" of Bahamians.
When asked yesterday what he would bring to the post of prime minister if elected, Mr Wilchcombe stated firmly that Bahamians could expect leadership and vision.
He said: "A vision that will seek to cause our country to be a greater nation. A vision that will cause our country to appreciate that we can move and take a formidable place in the world community. We can use our islands to create independent sustainable sectors; whether it's agriculture, whether it's fisheries, whether it's causing Grand Bahama to become the centre of business and trade in the world community or whether we cause for an international centre to be set up in Grand Bahama that deals with technology, which I think we can.
"We can become the Switzerland of the western world in terms of trade. We can become a fulfilment centre for countries like China offering things out to the world. We can focus more heavily on our children becoming more educated – we should not ever have to accept the failing averages that we have now and I say the minister (of education) is working hard to resolve that.
He added: "For instance, everyday after school at three, four o'clock we should have centres set up where children can go and dance if they wish, play music if they wish and participate in sport. All intended to be a part of a programme that allows you to cause for their development."
Mr Wilchcombe said it is imperative for people to have that "feel good factor".
He added: "It's the gross national happiness that I am after."
"I think I can bring the trust to the country, I think I can cause people to appreciate how great our nation can be.
"And I believe that I can also disseminate love. I believe in one simple thing, that you cannot lead a people if you don't love a people and you cannot bring service to a people if you don't believe in it yourself and I do believe in it. I always wish to give service, not to be served."
However, the West End and Bimini MP yesterday affirmed his support for Mr Christie, insisting that no one in the PLP will "push him out – when he leaves it is going to be his decision."
Mr Christie has not said if he will offer himself for re-election.
"Truth is we support Perry Gladstone Christie who is our leader right now, he has been in politics going on his 41st consecutive year. He has led (the) nation well and I am very loyal to Perry Christie. I will never challenge Perry Christie," said Mr Wilchcombe.
On Tuesday, Deputy Prime Minister Philip "Brave" Davis said he is ready to become prime minister, once the job becomes available. He added that his plans depend on whether Mr Christie decides to step aside.
The PLP's convention will be held the last week in October. All party positions will be up to be contested at that time.