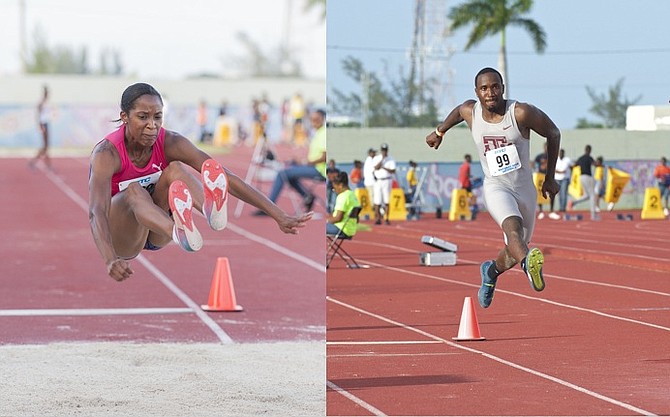 By BRENT STUBBS
Senior Sports Reporter
bstubbs@tribunemedia.net
MARK down a record breaking performance in the women's long jump for Bianca 'BB' Stuart as she joined NCAA runner-up Latario 'Robin' Collie-Minns, who got the best of the return of Leevan 'Superman' Sands in the men's triple jump, for the only two World Championship qualifying performances on day one of the Bahamas Association of Athletic Associations National Track and Field Championships.
At the Thomas A Robinson Track and Field Stadium on Friday night, the fans could hardly keep in their seats as they watched the top two performances in the pit.
And even though she didn't have any competition to push her, 27-year-old Stuart fed of the crowd as she soared 6.83 metres or 22-feet, 5-inches to not only erase her own national record of 6.81m (22-4 1/4) that she established on July 17, 2011 in Mayaguez, Puerto Rico, but also surpass the World Championships' mark of 6.70m (21-11 3/4) and the Pan Games' standard of 6.18m (20-3 1/2).
"It's a wonderful feeling. I always wanted to come out here and impress my fans and my family and all the support around me allowed me to do this today," said Stuart, who is now looking forward to the Pan Am Games in Toronto, Canada from July 10-26 and the IAAF World Championships in Beijing, China from August 22-30.
"I felt really good. I've been off for five weeks. The last time I jumped was in Puerto Rico, so I had a nice good rest, so I was able to go back to basics and just work my approach and stay strong. I think the rest really helped."
And, as she feels she's peaking at the right time, Stuart said if she can just stay healthy, she can definitely be a medal contender in the two major meets this summer.
The pre-championship hype in the men's triple jump was between Texas A&M junior Collie-Minns and Sands, who was making his comeback after undergoing surgery when his suffered a knee injury at the Olympic Games in 2012 in London, England. Sands, 33, threw down the gauntlet with his best leap of 16.64m (54-7 1/4) to take the lead before Collie-Minns, 21, answered with his winning mark of 16.95m (55-7 1/2) to go over the World Championship standard of 16.90m (55-5 1/2). He also went past the Pan Am mark of 16.17m (53-0 3/4) and was joined by Sands with his best of 16.64m (54-7 1/4).
"The competition was really good. I looked up to Leevan as my idol, but I guess I got the best of him today," Collie-Minns said. "I brought the best out of him. Coming into the competition, we knew that it was going to be head-to-head. I started out bad, but I managed to bring it back together."
After watching Sands do his thing, the only thing that went through the mind of Collie-Minns was: "I got to get him." But he admitted that even though he's gotten over his toughest "barrier", he knows there's plenty work ahead of him for the rest of the summer.
He intends to go back to Texas and sharpen up on his skills, especially on his approach, and he's confident that he will be able to put it all together again when it counts the most.
Despite not winning the event, Sands said he has certainly won the war because he was able to prove to the naysayers that he was indeed back. Immediately after he landed in the pit with his best performance, he jumped out, pulled off his shirt and raced onto the track to celebrate his achievement.
"I'm just excited to be back. That jump there, that's a jump that a lot of people didn't think that I could jump," said Sands, holding his youngest son, Legend, as he did the interview. "It felt like 17m on that jump because I knew I had a couple of fouls, but it just feels great to be back. I just thank God. I been through a lot, so it was a very emotional moment for me. I was very thankful my whole family was here to see me. I was hoping we was jumping in the new stadium. I was looking forward to that."
And while his emotions got to him, Sands apologised to those who felt he should not have celebrated the way he did, but he was just excited coming back from injury.
In just his third meet for the year, Sands said he's quite comfortable with where he is and he hopes to improve on his performance on Saturday when he competes in the first Blue Marlin Track Classic against some international competitors.
He congratulated Collie-Minns, who was coming of his second place finish at the NCAA Championships. Sands said he knew Collie-Minns was in much better condition than him, competing just about every weekend.
"I'm happy for the kid. He's doing well," Sands said. "I'm his mentor. He's doing well, so I'm proud of what he's doing."
Jeffery Gibson, the number eighth ranked competitor in the world, ran 49.83 to win the men's 400m hurdles, but he fell short of once again going under the World's qualifying time of 49.50 that he has already run this year.
Gibson was challenged by Alie Beauvalis of Haiti, one of the athletes from the region who has been allowed to compete in the championships. Beauvalis did 50.97 for second as he and Gibson achieved the Pan Am qualifier of 51.62. Gibson, who has already qualified for Beijing, is now looking forward to heading to Paris to compete in his next meet on the road to what he anticipates will be a good showing at the World Championships.
"I ran against Alie before, so I know he's a good hurdler, so I never underestimate anyone," said Gibson, who managed to make up the stagger from the first few hurdles to be completely in charge of the race by the time they got to the final bend. "I feel I'm content with where I'm heading, but I'm never satisfied, so I'm just hungry for the next race. I was a little surprised at the crowd, but my family and friends were here, so I just wanted to put on a good show for them."
Former World Championship silver medalist Derrick Atkins had indicated that he was looking to be back this year after being out of the spotlight. But he didn't contest the 100m that saw the top three finishers - along with the top three in the women's race - fall short of the World Championship qualifier, but achieve the Pan Am standard.
In the men's race, Texas A&M senior Shavez Hart won in 10.26 seconds with Auburn University's junior Teray Smith taking second in 10.33 and Clemson graduate Warren Fraser taking third in 10.37, all dipping under the Pan Am standard of 10.38, but short of the World Championship time of 10.16.
To their credit, Hart has already ran the standard for the World's in the 100m, while Smith has achieved the feat in the 200m. The 200m is on the schedule for day two on Saturday.
As for the women's century, Sheniqua 'Q' Ferguson held of a youthful field to take the tape in 11.41. Purdue's sophomore Devynne Charlton was second in 11.54 and Adanaca Brown came in third in 11.55. They all did the Pan Am qualifier of 11.55, but fell short of the World Championship mark of 11.33.
And both Brashe Wood and Serena Brown threw past the Pan Am qualifier of 42.00m in the women's discus with 47.07m (154-5) and 44.81m (147-0) respectively. The duo also went head-to-head in the shot put with Brown winning with 12.95m (42-6) over Wood's 12.34m (40-6).
Other female winners on day one were Katrina Seymour in the 400m hurdles in 57.73 and Kenya Culmer, who edged out Vinisa Beneby in the high jump after they both cleared 1.68m (5-6).
On the men's side, Darrell Wesh of Haiti took the men's consolation 100m in 10.31, followed by Shane Jones in 10.45. Sean Stuart got third in 10.59 and Spencer Deleveaux (4:07.93) out-lasted Darren Young (4:16.10) in the 1,500m.
And on the field, Perry Adderley threw the shot put 14.97m (49-1 1/2) ahead of Malik Stuart's 14.91 (48-11) in the junior division and Delroy Innis' 14.95m (49-03/4) title with a heavier ball, while Denzel Pratt easily won the javelin with 61.64m (202-2). Charles Sealy had to settle for second with 56.02m (183-9) and Avery Thompson got third with 47.90m (157-2).
The meet will wrap up on Saturday, starting at 5pm with the marquee men's 400m featuring rising 19-year-old Moores Islander Steven Gardiner.
Gardiner has the fastest qualifying time of 45.37 with Grand Bahamians Michael Mathieu (who celebrated his 31st birthday on Thursday) and Alonzo Russell trailing in 45.42 and 46.00 respectively to occupy the top three spots. Ramon Miller is sitting in fourth in 46.02 and, another Grand Bahamian, LaToy Williams is in fifth with 46.53.
Conspicuously missing from the field are national record holder Chris 'Fireman' Brown and Grand Bahamian Demetrius Pinder. Brown, the fastest Bahamian this year in 44.54 at the age of 36, has asked for an exemption from competing in the event as he intends to only run in the 200m on Saturday, while Pinder is reportedly nursing an injury.
Three other hot items on Saturday's menu are the women's 200m with Anthonique Strachan; the women's 400m with Shaunae Miller and the men's high jump that is expected to showcase a star studded field, including Donald Thomas, Trevor Barry, Ryan Ingraham and Jamal Wilson, all of whom have lifetime best of over 7-feet.