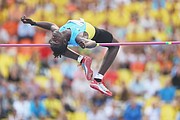 By BRENT STUBBS
Senior Sports Reporter
bstubbs@tribunemedia.net
ONE of the few things that remained consistent at the Bahamas Association of Athletic Associations' National Open Track and Field Championships was the men's high jump.
On the final day of competition Saturday at the Thomas A Robinson Track and Field Stadium, Ryan Ingraham, Donald Thomas, Trevor Barry and Jamal Wilson renewed their rivalry and the results turned out to be the same order above as the first three finished tied with the same height of 2.28 metres or 7-feet, 5 3/4-inches, to equal the qualifying standard for the IAAF World Championships in Beijing, China in August.
While Ingraham repeated as champion with fewer knockdowns after coming in at a higher height than his rivals, Thomas picked up second with Barry making his return with a third place. Wilson, the only member of the quartet who hasn't won the national title before, got fourth with 2.22m (7-3 1/4) to go under the qualifying standard of 2.17m (7-1 1/2) for the NACAC Championships next month.
For 21-year-old Ingraham, to repeat as champion was an incentive for the rest of his season.
"It was pretty good. My goal was to do 2.32, but hopefully it will come later in the year, hopefully it will come when I reach in China," said Ingraham, who improved on his season's best of 2.21m. "I feel good. I feel very confident. I'm jumping like the way I want to."
However, Ingraham admitted that he had some difficulty with his hip when he cleared the bar and that cost him, but he is looking on working with coach James Rolle to make the necessary adjustment before he travels. Ingraham said if selected, he would like to go to the Pan Am Games in Toronto, Canada next month to get in a personal best before he heads to the World Championships.
Thomas, who was a little disappointed in the way the equipment was set up for the competition, said he didn't want to make any excuses because they all came to the championship with the same goal in mind.
"I came over to qualify for the World Championships and that was something that we did. I feel good. I came in a little banged up, but that's part of the game," said Thomas, who matched his season's best performance. "We had some world-class jumpers who made the qualifying for Beijing. I played the gamble card and it cost me. I just have to work on making the height on my first attempt to stay in the game.
Th Grand Bahamian native, who will celebrate his 31st birthday on July 1, said he just has to go back to the drawing board with coach Henry Rolle in Auburn and get 100 per cent healthy so that he can get ready for Beijing and a bid to regain his form when he won the world title in 2007 in Osaka, Japan.
Barry, back in action after he suffered an injury that prevented him from competing last year, said it was a pleasure for him to compete in front of the home crowd again.
"I was trying to shake off a little bit of dust, so it was good to be back in form," said Barry, who opened his comeback with a leap of 2.23m (7-33/4) in April in Walnut, California and celebrated his 32nd birthday on June 14. "Last year, I hurt my groin right here and I've just been trying to get back. It's good to be back.
"The competition was good. Hats off to Ryan and Donald. We all made the qualifying standard for the World Championships. We push each other all year round and when one person rises, the others try to catch up. So it's good competition for us."
Barry, now an assistant coach at North Dakota State, said he will be working out with local coach Keith Parker to improve on his performance before he goes to Beijing. In the meantime, he said he will be concentrating on his transition from being the athlete on the field to being on the field coaching athletes, something that he hopes to develop as he goes along in what he calls "the best of both worlds."
Wilson, 26, missed the opportunity to qualify for Worlds which would have been a difficult predicament for the Bahamas Association of Athletic Associations as only three athletes can qualify unless you are the reigning champion and get an automatic bye to make it four. Instead, Wilson will have to go to NACAC and try to get into Beijing as the fourth Bahamian as the champion of the region.
"Due to the fact that I have to hustle hard and train in the Bahamas, I don't get the recovery methods that I need like my collegiate overseas," said Wilson, who opened his season at the Nationals. "I train hard in preparation to jump high, but in training sometimes you pick up some injuries and I've been fighting some of those injuries up to this point. But I still had to show my face and do what I had to do."
Wilson, coached by Ronald Cartwright, said he wanted to assure the public that he's still actively competing and he's planning on being around for quite awhile.
"The environment wasn't bad. It could have been better, but this was the best that we got without any advertisements," Wilson said. "I think people just wanted to see track and field. They are tired of seeing foreigners compete. They want to see their own people compete. So the environment was good, but the competitors were better. We had three qualifiers in the high jump for the World Championships and four who did the standard for both the Pan Am and NACAC, so we can't ask for anything better at these trials."
In preparation for the rest of the season, Wilson said he intends to ride the wave in whatever meet he is selected to compete in.