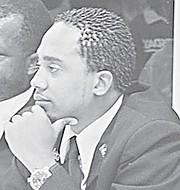 By LAMECH JOHNSON
Tribune Staff Reporter
ljohnson@tribunemedia.net
RADIO personality Louby Georges yesterday wrote "freedom of speech is dead" on his Facebook page after revealing his talk-show would no longer be broadcast on Guardian Talk Radio.
The host of Kreyol Connection did not return calls after a 13-line post was put up an hour before the Guardian Talk Radio show was to air at 7pm.
The post comes within a week of the Utilities Regulation and Competition Authority (URCA) receiving a letter from the government requesting an investigation of comments made on Kreyol Connection by lawyer Fred Smith on February 17.
"Friends Fans and Family" Georges' post began, "The Kreyol Connection is no more on Guardian Radio . Thank you to all of you that made it the most talked about show in the country."
"It was a great ride ... we are down but not out. Stay tuned. Love all of you. We shall rise again," he added.
"I want to say thanks to Juan McCartney who was the one that actually invited me over and started the process. Thanks to Kermit Rahming my producer. Thanks to Schin Nguyen (Stephen Hanna) producer for flavour Fridays. Thanks to Leyvon A Miller III my 'Ride or die' bredren who always held it down with or without me. Thanks to Xavier Joseph Mr Flavour himself. We did not leave the way we wanted, but a God Knows best."
Mr Georges concluded the post with the hashtag "freedom of speech is dead".
He later added: "The Kreyol Connection is not Guardian Radio 96.9FM. It's bigger than them or me. Please follow the Kreyol Connection page (on Facebook), go and click like. Every day there will be a video and the saga shall continue."
In December, Mr Georges expressed displeasure with a letter to the editor published in The Tribune in which the writer accused Mr Georges, activist Jetta Baptiste, and Haitian-Bahamian Anson Aly "and to some extent (Haitian) Ambassador Rodrigue" of making threats against The Bahamas.
Reacting to this, Mr Georges said he believes in The Bahamas and did not want to be associated with those making inflammatory comments about the country.
On February 17, Mr Smith, QC, had appeared as a guest on Kreyol Connection with Mr Georges and it was then that Smith reportedly made his controversial statements.
A recording of the show is no longer available on Guardian Talk Radio's website.
While Mr Smith maintained that none of the comments made on the show was inflammatory, Foreign Affairs and Immigration Minister Fred Mitchell said the government had asked URCA to investigate the comments and that the Office of the Attorney General was also advising the government on the matter.
Mr Mitchell said the government would allow URCA, which governs the airwaves, to probe the incident.
He also criticised Mr Smith for outlining his support of Bahamians of Haitian descent organising to form political parties in the country, and called Mr Smith "delusional" for his statements.
Mr Smith had previously said The Bahamas was headed in a direction that would soon see this grouping of society emerge as parliamentary leaders.
The president of the Grand Bahama Human Rights Association (GBHRA) also said the stigma in The Bahamas that Haitians are of lesser value should be done away with.