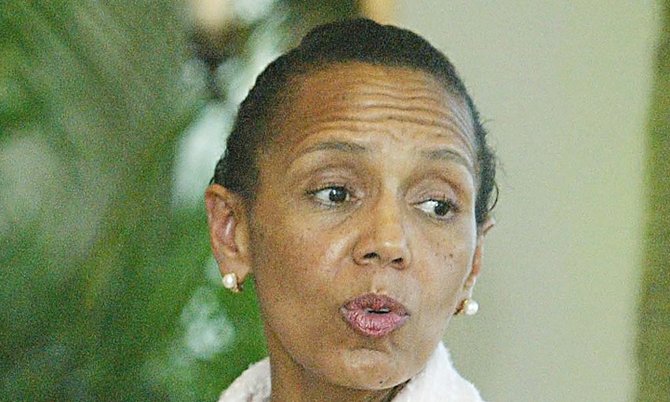 By NICO SCAVELLA
Tribune Staff Reporter
nscavella@tribunemedia.net
DEMOCRATIC National Alliance Deputy Chairman Ethric Bowe has called for the replacement of Allyson Maynard-Gibson as attorney general over the granting of a nolle prosequi by then acting Attorney General Jerome Fitzgerald in 2012.
He said if the government was not planning to "prosecute somebody that the previous administration found just cause to prosecute," the decision needed to be explained to the Bahamian people.
Mr Bowe's comments were in reference to a situation in December 2012, when Mr Fitzgerald entered a nolle prosequi (no prosecution) in a case involving George and Janice Hayes. The husband and wife were previously represented by Mrs Maynard-Gibson, who was an opposition senator at the time and in private practice, when they were charged with possession of an illegal firearm and ammunition.
Mrs Maynard-Gibson, who later became attorney general, was out of town when Mr Fitzgerald, who was acting as attorney general in her absence, entered the nolle prosequi.
After the matter attracted attention and scrutiny from the opposition FNM, Prime Minister Perry Christie promised to share the file on the case with party leader Dr Hubert Minnis. However, he has not done so.
Speaking on the matter on Wednesday, Mr Bowe said: "We need a new attorney general because that nolle prosequi thing they did the other day, that still is not sitting well with us. If you're going to not prosecute somebody that the previous administration found just cause to prosecute, you need to at least explain it to us."
In January, after the majority of government MPs rejected his attempt to get the House of Assembly's approval to establish a select committee to investigate the matter, Montagu MP Richard Lightbourn expressed disappointment that Mr Christie had failed to keep the promise to share the file with Dr Minnis.
Mr Lightbourn said that he is not surprised by the government's attempts to "sweep the matter under the rug," and also dismissed comments made by Damian Gomez, junior minister of legal affairs, with respect to the matter.
Mr Gomez had argued that it would be dangerous and improper for the House of Assembly to investigate the rulings of the attorney general.