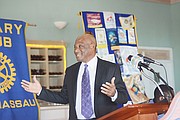 By NICO SCAVELLA
Tribune Staff Reporter
nscavella@tribunemedia.net
JUNKANOO Carnival Commission Chairman Paul Major yesterday conceded that he would have liked "to have known by now" the name of the international artist the government will choose to headline Bahamas Junkanoo Carnival.
Mr Major, while confirming that a decision on the headliner has not yet been made, said he would have preferred to know the name of the artist "long before now".
Mr Major also could not say when the announcement will be made. However, he dismissed the argument that the lack of a decision from the government could have a negative impact on the inaugural festival.
"I would like to have known by now, in fact long before now, but it hasn't happened, so that's where we are," Mr Major said yesterday. "Soon as we get the headliner and we put it out there we need to see how much traffic we get, and I believe we'll get a lot if we get the right name. So we're still working on it."
Mr Major's statements come just a month before Junkanoo Carnival is scheduled to take place in Grand Bahama in April, and roughly two months before it launches in May in New Providence.
Late last month, Tourism Minister Obie Wilchcombe told The Tribune that an announcement on the headliner would come within that week. That announcement has not been made, however.
According to published reports, Mr Major has previously admitted that the delay in announcing a headline performer for the event will compromise the commission's efforts to secure international business.
Mr Wilchcombe has insisted that he is not concerned about the delay, adding that the goal has never been to let an international artist dominate the festival.
"The fact is it's a Bahamas event featuring Bahamian artists," Mr Wilchcombe has said. "International artists will not dominate the show. We want Bahamian culture and artists to dominate simply because we're trying to attract people to the Bahamas to attend the event."
Last month, the Carnival Commission announced the first round of local entertainers, which included J Mitchell, T Connection, Visage and Baha Men.
They are expected to take the stage for the Music Masters concert on May 8.
Junkanoo Carnival will be a series of cultural events scheduled to take place in April, in Grand Bahama, and in May, in New Providence.
Officials have indicated it will cost $9m to stage the event. Last month it was revealed that only $1.5m has been spent so far, however.
Previously, Mr Wilchcombe would not confirm reports that the government was trying to lock down Barbadian singer Rihanna to perform at the festival. However, he said, the government was "giving consideration" to "certain names" with which it had been presented.