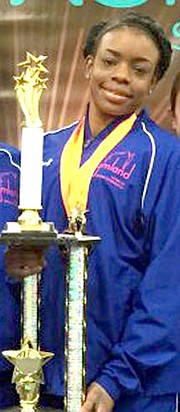 SIMONE Hall, of the Nassau Gymnastics Club, has been training in New Jersey, US, since early January in preparation for the 2015 Pan American Games. It is the first time a Bahamian gymnast has been represented at the prestigious competition. 
As part of Hall's training, the Gymnastics Federation of the Bahamas and her New Jersey host gym, Gymland, have entered Hall in a number of meets leading up to the Pan Am Games in order to gain additional experience and exposure to high level competition as her skill level and training improve. 
On March 1, Hall completed her first international competition of the year, the Fantasia Classic hosted by Gymland Coaches Ann Kist-Kolasa and Valdi Kolasa.  Both athlete and coaches were pleased with the outcome.
"Simone's progress since she came to train with us at Gymland is outstanding," said Kist-Kolasa. "Even just a few weeks ago we did not think she would be ready to compete in all four events. Simone surprised us and got herself prepared."
Hall's vault at the competition was the highlight, receiving a 9.75 out of a possible 10, earning her first place. Beyond the vault, Hall made every routine in the competition. Her All Around score (taking into account the vault, uneven bars, balance beam and floor exercise) earned Hall third place overall. 
Hall has now qualified to compete in the New Jersey State Championships at the end of this month.
"We believe she will be even more advanced and prepared for this competition and are excited to take her to this next step. Here she will aim to qualify for the regional championships (the best of New Jersey, Maryland, Pennsylvania, Delaware, Virginia, and West Virginia)," said Kolasa.
Hall intends to add difficulty to each of her routines at each of these competitions, getting her closer to the international standard she will compete against in the Pan Am Games.
"Simone is a very talented girl with a competitive spirit. Her strong basic foundation from her training at Nassau Gymnastics is evident as well," said Kist-Kolasa.
The coach is no stranger to the Nassau Gymnastics Club, as her professional coaching career began there at the age of 18. She took a summer position that quickly turned into a full time Assistant Head Coach position.
Under Kist-Kolasa's guidance, the Nassau Gymnastics Club was able to make advances towards international status. She continues to stay in touch with the local club and offers assistance to its gymnasts when possible.
"Now with a more intense training environment, more advanced equipment and her obvious God-given talent, we are excited to see how much more Simone can learn each day," Kist-Kolasa said.