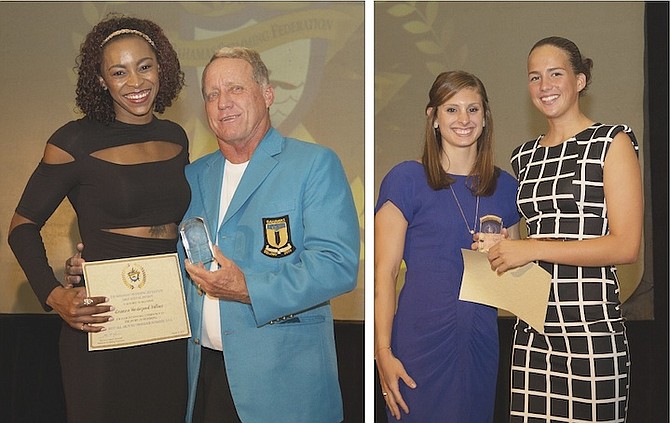 By BRENT STUBBS 
Senior Sports Reporter
bstubbs@tribunemedia.net
IN typical fashion of their historic performances, Arianna Vanderpool-Wallace and Joanna Evans were named the senior and junior swimmers of the year respectively by the Bahamas Swimming Federation.
The awards were presented to the top two swimmers during the federation's awards banquet at the Melia Hotel on Saturday night. The inaugural event was attended by some of Vanderpool-Wallace's teammates from SwimMac club in Charlotte, North Carolina.
The achievement speaks for itself for Vanderpool-Wallace, the Bahamas' most decorated swimmer - silver at the Commonwealth Games, four gold with two records at the Central American and Caribbean Games and a spot in the final at the World Short Course Championships, the first by a Bahamian.
What a year it has been for Vanderpool-Wallace. "It's awesome to be home for this.The fact that they are holding this for the first time is really great," said Vanderpool-Wallace about the awards presentation. "I know they have been talking about doing this for a long time and now is a great time with the CARIFTA team winning finally, Joanna winning the bronze at the Youth Olympics, so I think it's a great start."
To help her celebrate, her teammates from SwimMac, inclusive of Camille Adams, Marko Blazevski, Roy-Allan Burch, Cullen Jones, Ryan Lochte, Katie Meili and Tim Phillips, were in town.
"For me, it's more about motivating the youth because that's what is important," said Vanderpool-Wallace, who remembers being where most of the youngsters were. "I'm only going to be competing for a few more years and so to know that the youth are motivated to know that if they continue to work hard, they can get this too.
"It was just awesome to have my teammates here. We have been having a great time and I'm so glad to show off the country to them and allow them to see it through their eyes is really a great experience for me."
During their stay at Atlantis, the swimmers also got in some training sessions and competed in the federation's CARIFTA Time Trials and they also hosted a swim clinic at the Betty Kelly Kenning Swim Complex.
But the main reason they came was to show their support for Vanderpool-Wallace, whom all of the swimmers called the "hardest working swimmer" that they have seen around the pool.
Another hard worker was Evans, who clinched nine gold and a silver medal at the Carifta Games, set two national records at the Commonwealth Games and won a silver medal at the Youth Olympic Games.
She too was thrilled to be in such fantastic company with the Olympians in town. "It's just great that they are here and they are assisting in the awards presentation," said Evans about the visiting Olympians. "I know this will definitely help to motivate all of us because this gives us an opportunity to see exactly what we can strive to become in the future."
As for her awards, which also included the female 15-17 best swim and the best all-around swim, the Grand Bahama native said it was a natural fit for her to claim the accolades.
"I think we had a lot of great swimmers who performed very well this year, but I'm just grateful that I did what I did," said Evans.
The 17-year-old Bishop Michael Eldon 12th grader said she's hoping that she can go to her final Carifta Games in Barbados and duplicate the nine gold medals she won last year as the Bahamas won its first title.
She too is looking forward to representing the Bahamas at the Pan Am Games before she enrolls in the University of Texas on a full athletic scholarship in August.
Other award winners were:
Female 8-and-under
Abayomi Brown, winner of the best swim and best all-around swimmer.
"I am very proud of myself and I've been encouraged by all of my swim mates, my coaches and my family. I was just surprised," said Brown, an 11-year-old seventh grader at St John's College. "I was really scared, but when I heard my name, I had a flashback of all of the hard work that I went through to get this award. I'm looking forward to winning another one."
Male 8-and-under
Nigel Forbes - winner of the best swim and best all-round swimmer.
"I feel great. I was just proud of myself," said Forbes, the nine-year old fourth grader of the Grand Bahama Academy of Seventh-Day Adventist. "I want to do better this year than I did last year."
Female 9-10
Charlotte Russell - winner of the best swim.
Madison Mortimer - winner of the best all-around swimmer.
Male 9-10
Gabriel Encinar - best swim.
Lamar Taylor - best all-around swimmer.
Female 11-12
Amber Pinder - winner of the best swim.
Tenniya Martin - winner of the best all-around swimmer.
"I really didn't know that I was going to win. I really wasn't expecting it at all. It feels very good," said Pinder, who got her award from Vanderpool-Wallace, someone who she indicated that she "looks up to her, so it felt pretty good."
The 13-year-old ninth grader at Queen's College said she expected someone else to win, but she hopes that it will motivate her to improve on her performances this year.
Male 11-12
Izaak Bastian - winner of the best swim and best all-around swim.
"It was a road of hard work, but you just go through your routine and be dedicated to the sport and do your best, everything you get into the pool," said Bastian, a 14-year-old student of St Andrew's School in Boca Roton, Florida.
He also got his award from Vanderpool-Wallace and he called it a very special moment for him, but he's hoping that he can make another impression at the Carifta Games.
Female 13-14
Margaret Higgs - winner of the best swim.
Male 13-14
Alec Sands - winner of the best swim and best all-around swim.
"I'm very pleased, humble and excited," said Sands, a 15-year-old 10th grader at St Andrew's School. "I knew there were a lot of great swimmers out there so to win this award was very special.
"I hope that this will motivate me to go out there and do even better at Carifta and help the Bahamas to win the title again this year."
Female 15-17
Joanna Evans - winner of the best swim and best all-around swim.
Male 15-17 
Dustin Tynes - winner of the best swim and best all-around swim.
"It was good to see all of the swimmers who performed so well this year being recognised for their accomplishments," said Tynes, who also competed at the Commonwealth Games and the CAC Games last year. "I think I did pretty good last year and if that is any indication, I think I can do even better this year."
The 19-year-old is looking forward to the rest of the year, even though he has some unfinished business to take care of as an alternate on the relay for Ohio State for the NCAA Championships. He has his sights set on representing the Bahamas at the Pan Am Games.
Male 18-and-over
Vereance Burrows - winner of best swim and all-around swimmer.
Most spirited swimmer - Ariel Weech.
Coach of the Year - Andy Loviett.
Lochte, credited with having a couple of big wins over American sensation Michael Phills, including the 400m IM at the 2000 Olympic Games in London, England, said he was delighted to be back in the Bahamas.
"Coming here, especially with Arianna and the rest of my swim team, it was just a lot of fun," said Lochte, who was here about three years ago when he celebrated his birthday. "Arianna is a different breed. When God gave out the talent to swim, he gave it to her. She's amazing. I see her do things in practice that beat me.
"I see her beat the guys on our team. Everthing she does is almost perfect. She knows what she is doing and she is having a blast doing it. That's what makes her or keeps her up there with everybody. She's just amazing. I swim with her everyday and I know how hard she works and the dedication that she puts into the pool. So it's nice when someone gets recognised for what they do."
The focus this year for Lochte is the World Championships in Russia before he turns his attention on getting ready for the 2016 Olympic Games in Rio de Janeiro, Brazil.
"I have a couple goals in mind that I want to accomplish at Worlds, but they are my goals, so I can't tell you guys," Lochte said. "You guys have to wait and see. I have to keep you guys on your toes. After 2016 in Rio, I will see if I want to go another four years or hang up the speedo and move into another direction, but I don't know yet."
Cullen, like Lockte, had nothing but praise for Vanderpool-Wallace. "It's crazy becaue I've known Arianna for so many years. She's my teammate and I'm training with her, so it's good to come here to see how the people appreciate her. It's really kind of enlightening and kind of cool and I'm just proud of her. She's done a lot," said Cullen, who made his debut here.
Here before on a cruise, Adams said she was impressed with what she saw as she finally got a chance to mix and mingle wirth the Bahamian people, thanks to Vanderpool-Wallace.
"I think since Arianna lives in the States, she gets to see a lot of the support we get, so it's very special to come back here as they honour her," Adams said. "She works so hard. She's one of the hardest workers I've ever met in my life, so it's been such a treat that we've been able to come here and support her."
Minister of Education, Science and Technology Jerome Fritzgerald thanked the federation for putting on the event and the international stars who showed up. He also commended Vanderpool-Wallace and Evans for their stellar performances and looks forward to the continued growth and success of the sport in the future.