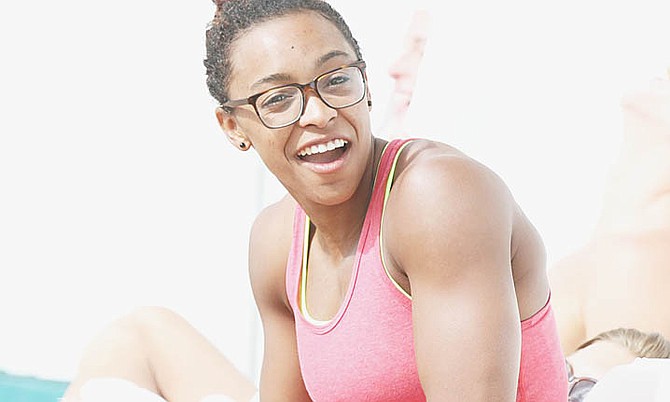 By BRENT STUBBS
Senior Sports Reporter
bstubbs@tribunemedia.net
SHE HAS been called the "hardest" working member of SwimMac in Charlotte, North Carolina. But Arianna Vanderpool-Wallace has attributed a lot of her success to the relationship that she has developed with her teammates and the environment that the coaching staff has created for them.
Vanderpool-Wallace, a graduate of Auburn University where she has a sensational collegiate career, got a chance to entertain six other members of their team along with two coaches from their professional swim club as they spent the past week in town, training at both Atlantis (where they stayed) and the Betty Kelly Swim Complex (where they competed and hosted a training camp on Saturday and Sunday respectively).
But the highlight of the trip for Vanderpool-Wallace was to have teammates Camille Adams, Marko Blazevski, Roy-Allan Burch, Cullen Jones, Ryan Lochte, Katie Meili and Tim Phillips, along with coaches Christie Shefchunas and Bob Groseth, join her as she was honoured by the Bahamas Swimming Federation at their inaugural awards banquet at the Melia Hotel on Saturday night.
It was at that time that Vanderpool-Wallace was named the most outstanding senior swimmer for 2014 after she won a silver at the Commonwealth Games, four gold with two records at the Central American and Caribbean Games and a secured a spot in the final at the World Short Course Championships.
"It means a lot to have some of my teammates, who are my best friends and who I spend 24 hours a day with," Vanderpool-Wallace said. "So to have them here along with my family, it's like it's all coming together for me and hopefully it will catapult me into the upcoming season and eventually Rio (in 2016 at the Olympic Games in Brazil).
"We have a training camp that is second to none and it makes you want to go out there and work very hard day in and day out. So I'm quite pleased with what I've been able to accomplish, but I know there is still a lot more left in me before I decide to quit."
This year, Vanderpool-Wallace said her immediate focus is on the Pan American Games in Toronto, Canada, July 10-26. She has already qualified for the three events - 50 metres freestyle, 50m butterfly and the 100m fly. Additionally, she's hoping that the federation will be in a position to field a team or two to compete in the relay events for the Bahamas.
Vanderpool-Wallace gave the spectators a glimpse of what to expect from her this year as she clinched the victory in the 50m free in 25.22 and the 50m fly in 26.83.
"It was so good to compete in a meet that wasn't the nationals," said Vanderpool-Wallace, who hopes to be back in June to make her presence felt when the federation hosts its annual Royal Bank of Canada National Swimming Championships at the stadium.
"To be able to compete in a meet that wasn't the nationals was quite a treat. And to have my teammates here, who I train with all of the time, was extra special for me. They were just so surprised to see the level of competition that exists here because we normally don't get to compete in meets like this where all of the age groups were represented."
Right after the Pan Am Games is the 16th FINA World Championships to be held in Kazan, Russia, July 24 to August 9. Vanderpool-Wallace, however, is contemplating whether or not she will compete in the event because of the time and the distance she has to travel in between the two events.
Vanderpool-Wallace, 25, is the daughter of former director general of tourism Vincent Vanderpool-Wallace and Tietchka, who was also a former national team swimmer. Besides the bond that she has developed with her teammates, Vanderpool-Wallace said her parents are indeed her biggest supporters and motivators.