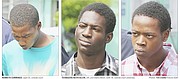 By LAMECH JOHNSON
Tribune Staff Reporter
ljohnson@tribunemedia.net
TWO teenagers, who were charged with murder and attempted murder, yesterday alleged that they were beaten by police while in custody and denied medical treatment.
The accused, Deano Nixon and Keith Allen, are both 18.
Nixon, of Colleton Street, and Allen, of Windsor Lane, are accused of murdering Henry Johnson and Renardo Johnson on February 16. They are further charged with trying to murder Pedro Collie and David Strachan.
The fatal shooting occurred around 8pm, on Plantol Street, where persons in a silver coloured vehicle opened fire on a group of men. The Johnsons were pronounced dead at the scene while Collie and Strachan were taken to hospital for medical treatment.
Before the accused were placed on remand at the Department of Correctional Services until their May 29 court appearance, both teenagers claimed that they were victims of police brutality. They said they were denied medical attention.
Nixon complained of headaches and a bruised upper body while Allen alleged that he was suffocated when a plastic bag was put over his head.
Chief Magistrate Joyann Ferguson-Pratt made a note of their complaints and ordered the pair be seen by a physician at Princess Margaret Hospital before being taken to prison.
Another man was also put on remand yesterday after being charged with murder.

Kenneth Cummings, 25, of Samson Street stood before the chief magistrate accused of intentionally causing the death of D'Antione Burrows and attempting to murder D'Quille Edgecombe on March 6.
Around 11 o'clock on the morning in question, Burrows and Edgecombe were being pursued in Nassau Village by two armed gunmen who discharged shots at the pair.
Burrows was hit and collapsed when attempting to run into a nearby barbershop.
Burrows died at the scene while Edgecombe was hospitalised for his wounds.
Cummings, when arraigned, was not allowed to enter a plea to the charge and was told that his case would be forwarded to the Supreme Court on May 11.