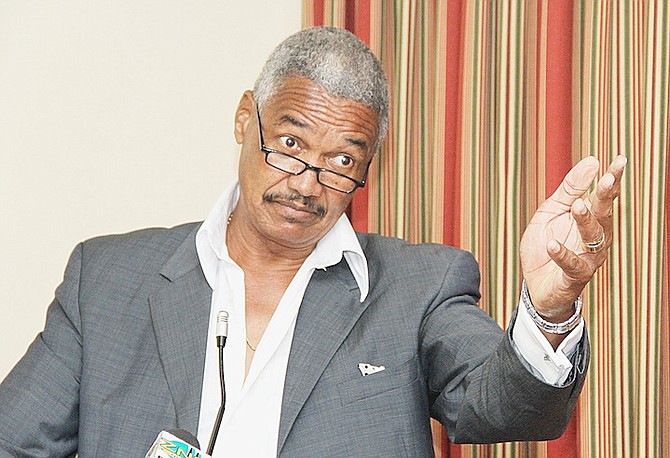 By SANCHESKA BROWN
Tribune Staff Reporter
sbrown@tribunemedia.net
SINCE the start of the year, outspoken Tall Pines MP Leslie Miller has retracted or apologised for several controversial statements he has made to the press.
These recent blunders follow several contentious remarks made by Mr Miller last year, which brought a number of calls for his resignation.
Mr Miller's latest gaffe occurred on Sunday, when he blamed Bahamas Electricity Corporation (BEC) workers for last weekend's fire at the Blue Hills Power Station and resulting blackout.
Mr Miller, BEC's executive chairman, told the press that "improper maintenance and negligence by BEC workers" caused the power failure. He also said he believes no one will be punished because of "union interference".
Less than 48 hours later, Mr Miller distanced himself from his earlier statements and said that no one was at fault for the blackout. He then commended BEC workers for a "job well done" and said there was nothing that could have been done to prevent the outage. His comments came the same day that Minister of Works Philip Davis released a statement saying the blackout was not caused by employee negligence.
Last month, Mr Miller found himself apologising, this time to the family of a man he claimed had died while "attempting to steal copper from BEC".
On February 24, a BEC crew arrived at the corporation's substation on Coral Harbour Road where they found a man with severe burns to his body. An ambulance and police arrived at the substation and the injured man was taken to hospital.
Three days later, Mr Miller told the media that the man had died in hospital after being hit with 33,000 volts of electricity while attempting to steal copper from BEC.
The following day, after police confirmed that the man was still alive, Mr Miller apologised for announcing the man's death saying: "That is what the people told me."
In January, Mr Miller was also apologetic, this time for his "ignorant" remarks regarding the inaugural Bahamas Junkanoo Carnival.
Mr Miller initially told a reporter that he believed carnival was "garbage" and was not in the best interest of the country. He also suggested the event could have a negative impact on youth by being sexually suggestive and said he had "no appetite" for the festival's sexually charged nature.
One day later, Mr Miller told The Tribune that when he first spoke, he was "ignorant of the facts" and "spoke out of turn". He said that after he had all the information on the event presented and explained to him, he had a "change of heart" and fully supported Bahamas Junkanoo Carnival.
His contrition over the matter came after Prime Minister Perry Christie publicly criticised him and revealed that Mr Miller's own daughters were avid supporters of the Junkanoo Carnival.
In February 2014, the Tall Pines MP also found himself in the middle of controversy when he joked in the House of Assembly about "beating his girlfriend".
"That's like beating your wife or your girlfriend every time you go home. You just beat her for looking at her. I love you. Boom, boom, boom. I had a girlfriend like that. When I didn't beat her she used to tell me I ain't love her no more cause I don't hit her.
"But seriously I had one like that. I had one. She used to tell me..."
At that moment, House Speaker Dr Kendal Major interjected stating: "We know that you are joking with that."
However, Mr Miller continued: "No I serious with that. I tell her I get tired man. My hands hurting a little bit, give me a break. I am telling you the truth. One thing I don't do is lie."
After a public outcry from women's rights advocates, Mr Miller backtracked a few days later insisting that he had "never abused a woman" and that his comments were spoken in "jest".
Mr Miller said at the time he made the comments, he did not realise the severity of the domestic abuse problem until he visited the Crisis Centre. He then made a donation to the centre; however it was not accepted.
Mr Miller also came under fire last June after it was revealed that he, and his family-owned business, Mario's Bowling and Entertainment Palace, collectively owed BEC more than $200,000.
Shortly after the information was leaked to the press, one of Mr Miller's daughters reportedly made a $100,000 cash payment on the bowling alley's BEC bill.