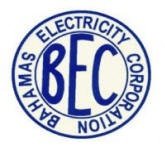 By SANCHESKA BROWN
Tribune Staff Reporter
sbrown@tribunemedia.net
PRIME Minister Perry Christie said yesterday there is "a lot of work to do" at the Bahamas Electricity Corporation before the summer to "prevent the entire grid from collapsing" causing further widespread power outages during the peak season.
Speaking to the media outside the House of Assembly yesterday, Mr Christie said the government must get plans underway to prevent any further blackouts, especially during the hottest months of the year.
He also said officials were now holding final meetings to wrap up discussions on BEC's restructuring. He said a management company should be announced "very soon".
His comments came shortly after nearly 10 per cent of the capital was left without electricity after two engines at BEC's Clifton Pier Power Plant failed around 10.20am.
This supply interruption came less than a week after an island-wide outage, which forced the company to conduct load-shedding activities throughout New Providence over the weekend.
Some residents reported that they were without power for up to 36 consecutive hours. Free National Movement Leader Dr Hubert Minnis said the blackout exposed "a crisis in leadership."
"I wish he (Dr Minnis) would give me the opportunity to hear him say it in Parliament when I could respond immediately," Mr Christie said yesterday. "But these sort of back door comments about vision is just political rhetoric and bordering on the idiotic at times because again with respect to BEC, it is clear we have a continuing problem with the Bahamas Electricity Corporation.
"I am deeply concerned not just about that but obviously that we must almost immediately put into effect efforts to prevent the entire collapse of the grid to be able to anticipate this summer when we are going to have more hotel rooms added to it. Therefore BEC has a lot of work to do.
"What I thought came out of this was, however it happened, and even if it was negligence, however it happened what I found remarkable was the response of the BEC team and being able to get that back up and get people connected very effectively in a short amount of time."
Minister of Works Philip Davis has said he is satisfied the blackout, which came after a fire in the trenches at the Blue Hills Power Station, was not the result of employee negligence. This contradicted BEC Executive Chairman Leslie Miller who had initially blamed employees for the problem, but backtracked on Tuesday.
"When you look at what happens in the United States of America and the time it takes for them to get back up, I think we have to applaud the persons who worked for BEC and how they were able to respond to crisis," Mr Christie added. "With respect to moving forward, the government of the Bahamas will be shortly in a position to receive the recommendation that I had made as a follow up to the recommendation of the (BEC reform) task force. I would want to first talk to the trade union representatives and the management representatives moving forward on these matters."
On Monday, Bahamas Electrical Workers Union (BEWU) President Paul Maynard said if the government did not fire BEC Executive Chairman Leslie Miller immediately, the union would not support BEC's reform process. His comments came after Mr Miller blamed the weekend's island-wide power outage on BEC employees.
Yesterday, the prime minister said who serves as chairman is not up to the union but is a "government decision."
Meanwhile, BEC said yesterday's outage happened after a second engine had to be taken offline to clean a fuel filter around 10.21am. This caused "a generation shortfall resulting in a loss of service to less than 10 per cent of customers," BEC said.
BEC said within an hour and a half, crews had cleared the filter, returned the engine to service and restored supply to most of the affected customers.
At 3pm, BEC said less than two per cent of customers were still without supply, but that all customers were expected back on supply shortly.