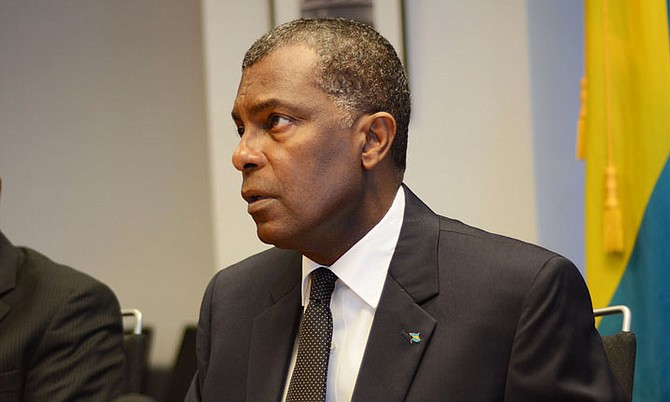 By NICO SCAVELLA
Tribune Staff Reporter
nscavella@tribunemedia.net
THE Cuban Embassy has denied claims that a Bahamian man sentenced to 18 years in prison in that country on drug trafficking charges has faced inhumane treatment while incarcerated.
Cuban Ambassador to the Bahamas Ernesto Soberón Guzmán, in a letter sent to The Tribune, said the living conditions of any Cuban penitentiary Mr Green is in are among the "most adequate and accomplished international parameters established for these kind of facilities".
Mr Guzmán also denied previous claims from Antonia Ferguson Green, the wife of 28-year-old Jamaric Green, that her husband was "denied phone calls or the ability to retain a lawyer" when apprehended by Cuban officials. The ambassador also denied that Mr Green was "verbally and physically abused and forced to give false statements and sign papers which (were written in Spanish)."
"At Cuban penitentiary facilities, educative programmes are implemented in order to support and develop the learning process of the inmates, supported, in many cases, with the help and knowledge of other inmates that are in a capacity to teach others," Mr Guzmán said. "You can be sure that the living conditions of Mr Jamaric Green in any of the Cuban penitentiary facilities he is in, are the most adequate and accomplish international parameters established for these kind of facilities."
Mr Greene was convicted in 2012 of drug trafficking after allegedly attempting to carry out an operation of transfer of marijuana. According to a summary of the alleged crime, provided in the House of Assembly by Minister of Immigration Fred Mitchell, he was with three other Bahamians who had organised large volumes of transshipment of marijuana from Jamaica to the Bahamas.
The boat they were on was damaged during the navigation east of Cuba and they decided to launch the drugs into the ocean and wait for some time to ask for help, according to official reports. The next day, 68 packages of marijuana arrived on the Cuban coast at Sabinal Cay, Camaguey.
However, Mrs Green has insisted that her husband was framed, and said he is now "rotting" away in Cuba's "inhumane" prison.
Last week, she said while she is convinced her husband is innocent, what would comfort her is to have her questions about the matter answered by an official familiar with the case.
She said Bahamian officials have not provided help or answers for her husband.
Yesterday, Mr Mitchell said the narrative Mrs Green has provided is not correct.
He read a report from the Bahamian ambassador in Havana, Alma Adams, who said officials have visited Mr Green and other Bahamian inmates in Cuba nearly every month. The last she saw him was on March 3 at the La Condesa Penitentiary, in Guiness, Mayabeque Province.
At that time, Mr Green appeared in "good spirits and good health", Mr Mitchell said.
His wife met with Cuban Ambassador to the Bahamas on March 5, Mr Mitchell said.
• See Mr Guzman's letter HERE