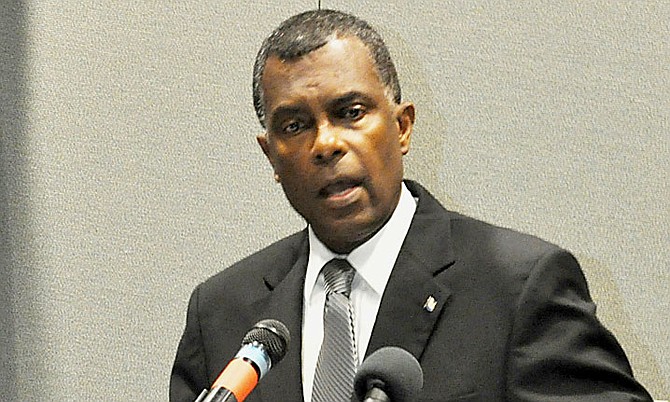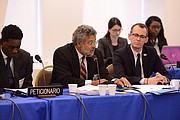 By NICO SCAVELLA
Tribune Staff Reporter
nscavella@tribunemedia.net
THE Grand Bahamas Human Rights Association has "no credibility" in its attempts this week to brief the United States' Senate on "human rights violations" they believe are being committed under the government's new immigration policy, according to Foreign Affairs and Immigration Minister Fred Mitchell.
Mr Mitchell said attorney Fred Smith in particular, the association's president, is not a "credible figure," and said Mr Smith is in the US to do what he is "specialising in - defaming his country oversees."
Mr Smith, along with GBHRA members Louby Georges, Joseph Darville and Paco Nunez, were hosted in Washington DC on Wednesday by the Senate Committee on Foreign Relations at a panel discussion on the state of human rights in The Bahamas. On Friday they appeared before the Inter-American Commission on Human Rights (IACHR).
Mr Mitchell criticised them for their efforts, and again shot down the legitimacy of the GBHRA's complaints. He said if the association wishes to "persist in defaming their country" they would have to answer to the Bahamian public for their actions.
"They have no credibility," Mr Mitchell said. "Fred Smith is not a credible figure. He is a troublemaker, and that's what he is specialising in - defaming his country oversees. Most Bahamians think of him that way and the group that's with him, people think of them in that way as well.
"If they have any legitimate complaints they have not exhausted the local remedies and if they want to persist in defaming their country then they have to answer to the Bahamian public for that. The point is the work goes on because the law has to be enforced. It's as simple as that."
Mr Mitchell added: "(State Minister of Legal Affairs) Damian Gomez is representing the Bahamas at the IACHR hearing which this GBHRA has contrived to bring in Washington, and we expect that The Bahamas will be stoutly defended from these people defaming our country."
On Wednesday, the GBHRA said it informed the senate that since November 1, 2014, the government of The Bahamas had carried out "mass immigration raids and roadblocks in direct violation of the fundamental rights enshrined in the Bahamas Constitution."
The association also told of "hundreds of cases of wrongful detention, illegal deportation and a total breakdown of due process, as well as numerous claims of physical and emotional abuse at the hands of law enforcement officers."
"They also explained how the new immigration rules for students, set to come into force in September 2015, will effectively deny children their right to an education, in violation of the Bahamas Constitution, the Education Act, and numerous international treaties signed by The Bahamas," the association said in a statement.