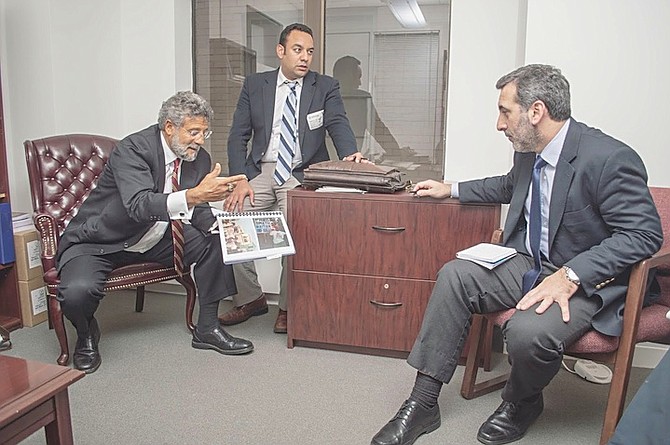 By AVA TURNQUEST
Tribune Chief Reporter
aturnquest@tribunemedia.net
WASHINGTON, DC - Last week's hearings on migrant human rights in the Bahamas were termed a "great first step" amid concerns from country petitioners of reprisals at home.
Diego Alcalá, deputy director of the Caribbean Institute for Human Rights, said the international recognition of the Bahamas government's open invitation for the Inter-American Commission on Human Rights (IACHR) to conduct an on-site visit was an important foothold in the protection of the human rights of migrants.
"I take the [Bahamas] government at its word," Mr Alcalá said. "The government has made an international recognition that it has invited the commission and it's not just a visit. I think there is an engagement, a conversation that was started and I'm looking forward not only on an international level but seeing the government of The Bahamas following through on that dialogue.
"And not just the same actors in The Bahamas. I believe this discussion merits opening to individuals such as the Grand Bahama Human Rights Association."
Mr Alcalá explained that a more inclusive consultation over the new legislation would drastically improve the chances of compliance with international obligations. "It's a great first step," he added, "and I hope it's not the only step."
Mr Alcalá spoke to The Tribune on the sidelines of Friday's hearing, which was jointly requested by his organisation, the Robert F Kennedy Human Rights, and the Grand Bahama Human Rights Association (GBHRA).
State Minister of Legal Affairs Damian Gomez and Permanent Representative to the Organization of American States Elliston Rahming led the government delegation.
During the hearing, petitioners requested that the IACHR assist The Bahamas in designing and implementing a training protocol on Human Rights for State agents, including the role of human rights defenders and their protection.
In his contribution, Mr Alcalá said: "Human rights defenders in The Bahamas are confronting a hostile environment that put their security and work at risk. Members of our delegation have been threatened for expressing their opinions against recent changes in migration policies. Also, high-level government officials have made expressions against them, minimising their work or even depicting it as 'alarmist and inflammatory'."
Mr Alcalá referred to threats against GBHRA executive members Fred Smith and Joe Darville with charges of criminal libel and sedition, and pointed to the cancellation of the Kreyol Connection radio show following critical statements by the government.
IACHR commissioners responded strongly to the petitioners' fears of reprisal for participating in the hearing, pointing out that petitioners were protected under the IACHR's conventions signed by all Organization of American States member states.
Mr Smith, the GBHRA president, told The Tribune that he has made numerous complaints to the Commissioner of Police over verbal and physical attacks he has experienced due to his environmental and human rights activism. However, he did not feel the concerns are taken seriously given the government's own proclamation against his organisation.
Mr Smith said: "Joe Darville and I have been called social terrorists. Fred Mitchell (the Minister for Foreign Affairs) has threatened to have us prosecuted for criminal libel, sedition. On social media, we have had horrific accusations made against us, that we're traitors against The Bahamas and that we should be deported."
During Friday's hearing, commissioner and country rapporteur Tracy Robinson said: "In relation to human rights defenders, the commission is always concerned when there are allegations of either threats or stigmatisation of human rights defenders and we ask the state to pay close attention to the allegations made. The commission has very clear rules and principles about the use of criminal laws, including criminal libel laws, in a context where human rights defenders are exercising their rights to protect the interest of others."
Ms Robinson also charged that the state had a duty to perform due diligence to also prevent violence and abuse, adding that reports that the government had made an arrest concerning an allegation of sexual violence at the Carmichael Road Detention Centre were well received.
She questioned what action had been taken by the government to prevent such abuses at detention facilities or elsewhere.
Mr Gomez told The Tribune that "time will tell" whether the country had successfully dispelled allegations related to its immigration policy and enforcement. "Time will tell," he said, "we've said pretty much what's in the bill. That is a matter of public record. We are committed to making sure our laws are obeyed and we are not about abusing anyone."
In response to the recommendation that arbitrary raids and deportations are temporarily suspended pending further consultation, Mr Gomez replied: "That's not going to happen".