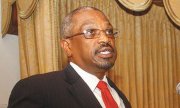 By RICARDO WELLS
Tribune Staff Reporter
rwells@tribunemedia.net
FREE National Movement Leader Dr Hubert Minnis has called on "professional Bahamian journalists" to foster stronger ethics and help with "honourable and rewarding development" of The Bahamas.
During a presentation at the College of The Bahamas last week, Dr Minnis told a group of journalism students that "more than ever" the Bahamas needs "people of integrity and courage to join the ranks of our better journalists".
He explained that throughout history effective journalism has been at the root of revolutions that resulted in the removal of governments.
Dr Minnis added that media, with its ability to spread information not just to those who dominated society, but also "commoners" over time earned the role of the fourth estate.
"Your professional field is powerful indeed. It has launched revolutions and set and taken down governments. Above all, it has held the reins of democracy. At times, you will discover or see things that will take you out of your comfort zone.
"In some respects, choosing to be a journalist worthy of the name, will make you an outsider. In fact, you risk becoming just like a politician in opposition who dares to question the policies of those in power."
According to Dr Minnis despite all their inherent power, journalism and the media have not always lived up to the glories of their potential. He questioned why so many local journalists choose to use "corrupt" tactics.
Dr Minnis said, "corrupt journalists do a lot of jumping – jumping the gun, jumping to conclusions and certainly jumping on a bandwagon and choosing partisanship. Some choose to become faceless hacks who tread water or hide away, not willing to attract notice to themselves. Such people never want to raise any waves.
"They want to be liked by everyone and never have to deal with the question of ethics. Others choose out-and-out corruption and are unworthy of the profession.
They will spend a lot of time reacting and expurgating. They do their best to remove information that might offend people, especially people to whom they owe favours."
Dr Minnis said journalists that normally follow this route often find themselves "on some bandwagon, running from truth and the facts like a bad dream or going with the flow because it's too hard to fight the current".
He said "corrupt" reporters cannot transform the minds and hearts of the public. Dr Minnis added only responsible journalists who act independently, reduce harm, seek truth and report it with accountability and transparency will benefit the Bahamas.
"Choose to be a professional Bahamian journalist, who understands that our homeland is a developing country and your obligation to contribute to its honourable and rewarding development. Recognise that there really is power in the pen. When used by the corrupt, that power can tear down and destroy.
"When wielded by men and women of integrity, the pen can build a new world. With a pen dedicated to truth, you can help to build a Bahamas where governance is transparent. You can build a democracy that is strong and enduring, a democracy that is truly for the people by the people. You can help to build a world where human rights are upheld."
Dr Minnis said journalists "can and must encourage others to buy into" the correct strategies needed to improve the country and effect change.
He said journalists should never be afraid to ask the hard questions. "Ask until the contradictory stories give way to the truth about that important facility."
He claimed that mostly the truth is often buried under personal agendas, red herrings and lies, admitting if the hard questions are constantly asked, the truth will subside.