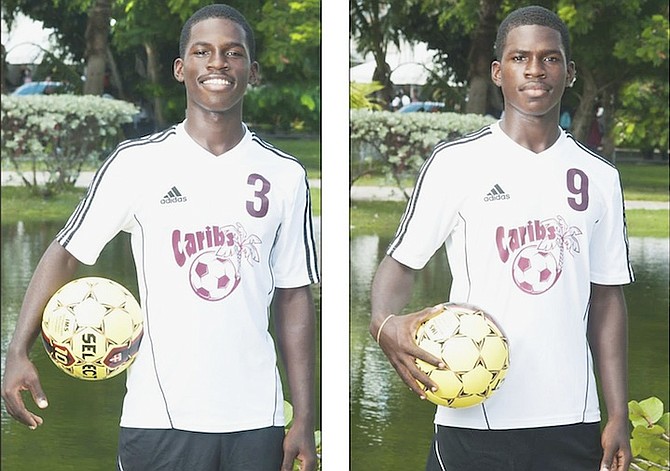 By BRENT STUBBS
Senior Sports Reporter
bstubbs@tribunmedia.net
Identical twin  brothers Donovan and Devaughn Williamson were hoping to give the Bahamian soccer fans a double look on the men's national team but, for the first time, they will be separated when the FIFA World Cup Qualifier and the CONCACAF Beach Soccer Championships get underway this week.
From the age of five when they started playing in the Bahamas Football Association with the United Football Club, the 17-year-old Williamson siblings have made their mark on the sport. They have represented the Bahamas together on the national team for the past five years.
But while they would prefer to play together this week, Devaughn, a defensive specialist, will be home to play on the men's national team Wednesday night when the Bahamas is scheduled to host Bermuda in the first of two matches in a home-and-away series in the first leg of the FIFA World Cup Qualifier.
On Thursday, Donovan will leave Devaughn at home as he heads off to El Salvador as a wingman on the men's national team for the CONCACAF Beach Soccer Championships March 28 to April 4. Devaughn, however, will get to travel as the men's soccer team will play in Bermuda on Sunday in the second half of their head-to-head match-up.
But, for the first time, the Aquinas College 2014 graduates, now in their freshman year at the College of the Bahamas studying two different subjects - Donovan in bio-chem and Devaughn in maritime operations - will be using the national team trip as an experience when they look forward to splitting up for the remainder of their collegiate careers.
Their new locations have not been confirmed, but wherever they end up, the dynamic duo are still planning on teaming up whenever they can to continue their first love - playing soccer together.
"A lot of people asked why one is doing grass and one is doing beach, but I tried out for beach and I wasn't as successful as Donovan, so I decided to try out for the grass and I made it," Donovan said.
Noted Donovan: "It's kind of a first time thing for us because every time we played, we played together. So it's kind of different. It feels like I'm missing something, but I know that I have to do what I have to do and he has to do what he has to do. It's weird, but it's more a preparation for us in case we have to split up in the future."
Donovan admitted that he would prefer for the two events to be held at different times so they both would have had a better chance to make either or both teams together.
"It has put us at a disadvantage because we would have liked to try and play on both teams," Donovan said. "But we have to play on two different teams, so we are congratulating each other and supporting each other as much as we can. We know that we won't be able to play together on this one."
Although they won't have each other to rely on, Devaughn said he's looking forward to playing with his teammates in the World Cup qualifier.
"I think we have a good team and a good chance to defeat Bermuda and go into the next round," he said.
On their team as they prepare to travel on Thursday, Donovan said: "We are just looking forward to going over there and competing to the best of our abilities and hopefully we will get the best results. I think we have a very good team, so I think we should do very well."
As for Donovan, Devaughn advised him to "just play your best. Don't let the nerves get to you because this is the first time playing on the beach team and I know he doesn't have the experience to play at that level. But he just has to play the same type of ball that he has been playing for the past six months in preparation for the championship."
Likewise, Donovan said he wants to encourage Devaughn "to stay focused, keep his head in the game and know that he can do all things through Christ."
Together, Donovan said they have certainly made a name for themselves.
"We have a lot of success under our belt," he said. "So at this moment, I feel good about it."
And individually, Donovan admitted that there are times when they have been mistaken for one another.
"All the time. That is something that is very common," he said. "When we are at practice and people can't tell the difference, they would just call us twin. So we get confused all the time. We have gotten used to it."
Hopefully the twins, born to Philaseta and Conrad Williamson, will also get used to playing separate and apart from each other a lot more in the future.