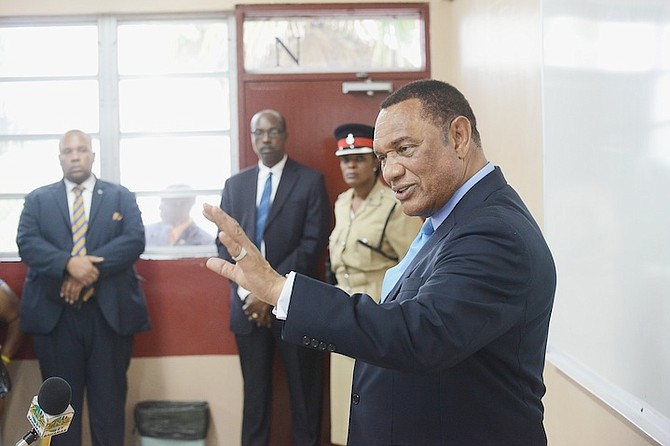 Audio clip
Prime Minister Thursday, March 27, 2015
By RASHAD ROLLE
Tribune Staff Reporter
rrolle@tribunemedia.net
PRIME Minister Perry Christie yesterday said he was "stupefied" by the "arrogance" of some journalists who "presume" to make decisions for people, adding that those in the media who criticise his leadership capability can go "to hell".
He also lashed out at calls from some in the media for him to resign and stressed that these critics were not in the trenches with him when he won eight consecutive elections.
Mr Christie lambasted the media as he spoke to College of the Bahamas' journalism programme.
He stressed to the students how grave a responsibility the media has to report truth so that readers or listeners understand the information. He also urged the students to challenge him and the leaders of the two other political parties to a public debate, so they could determine who is the better of the three.
"The people who are now the journalists in our country are the people who have a tremendous responsibility to speak truth and to speak it in a way where the people who are reading the papers or listening to the stories understands the truth," he said.
"Would it be truth to characterise me as somebody who is weak and can't make decisions and can't this and can't that? Is that true? I'm in my 40th consecutive year of public life. Only Lynden Pindling and Roland Symonette in the history of this country have served longer than me...that's how long I've been around. And you have to make judgments as to what that means. What is it that people should see or want to see in their leaders? Integrity? Yes. The capacity? Yes. The ability to balance? Yes. Could govern a Cabinet? Yes.
"But politics has somehow warped people and journalists who are political scribes aggregate to themselves a level of arrogance that stupefies me because they presume to make decisions for people. They presume that the position they are in gives them the right to say what exists and what doesn't, but the devil is a liar and it is important for you as students to be able to have your leader's ear and don't be scared. Bring Minnis here, bring Branville here, Christie here and say 'tell us what you believe in,' and make your judgment. Ask questions, see who has a command of the country, who understands where the country ought to be going and who could speak to those issues. That's what it's all about. No rush to judgment, but judge everything."
At another point during his nearly two-hour talk, Mr Christie blasted those journalists who have found his leadership style wanting and have called for his resignation.
"Bahamians do not write their stories and we have to keep on encouraging," he told the students. "You are journalists. You are supposed to be writing and talking about how to get this country to know its journey. Many journalists don't have the time for it. It's better to say 'well, Christie should resign.' Well resign my foot.
"When I was going around Centerville, eight consecutive elections, none of them were there. When I was talking to the people who vote for me, none of the journalists were there with me. When I promised them I going do my best to help them, none of them were there. Their judgment as to whether I'm doing my best, to hell with them. It's the people with the power, people whose aspirations are for a better way of life for themselves, and their children. You have the right to believe what you believe, to write what you believe. I must respect you for that. But respect me for what I'm trying to do."
During the roughly two-hour session, Mr Christie also discussed also issues ranging from Family Island development, fires at the New Providence Landfill and improving health care throughout the country.
Mr Christie and his administration have come under heavy fire recently over a range of controversies including the handling of contracts for the Bahamas Agriculture and Marine Science Institute (BAMSI) and allegations that a senior Cabinet minister allegedly interfered with the course of justice.