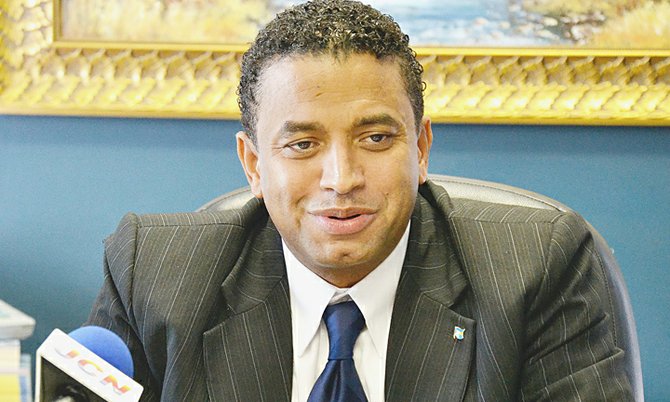 By NICO SCAVELLA
Tribune Staff Reporter
nscavella@tribunemedia.net
DEMOCRATIC National Alliance Leader Branville McCartney has formally accepted Prime Minister Perry Christie's call for a public debate between the country's three political leaders to determine who is best suited to run the country.
In a press statement yesterday, Mr McCartney said not only did he accept the challenge proposed by the Progressive Liberal Party leader; he said the DNA would also be willing to sponsor the debate.
Last Thursday, while speaking at the College of The Bahamas' journalism programme, Mr Christie urged students present to challenge him, Free National Movement Leader Dr Hubert Minnis, and Mr McCartney to a public debate so they could determine who is the better of the three.
It was at that forum that Mr Christie, in expressing his disdain for some members of the local media, controversially said of journalists who criticise his leadership capability, "to hell with them."
"Indeed, I look forward to the debate being held at the College of The Bahamas prior to the end of May 2015," Mr McCartney said yesterday. "The Democratic National Alliance has advanced the need for public debates since 2012, the year of the last general election. In light of this, the Democratic National Alliance would be willing to sponsor this debate."
Last week, Mr Christie lashed out at calls from some in the media for him to resign. He said these critics were not in the trenches with him when he won eight consecutive elections, and stressed how grave a responsibility the media has to report truth so their audiences understand the information.
"(Journalists) presume that the position they are in gives them the right to say what exists and what doesn't, but the devil is a liar and it is important for you as students to be able to have your leader's ear and don't be scared," Mr Christie said last week.
"Bring Minnis here, bring Branville here, Christie here and say 'tell us what you believe in,' and make your judgment. Ask questions, see who has a command of the country, who understands where the country ought to be going and who could speak to those issues."
Mr Christie added: "Their judgment as to whether I'm doing my best, to hell with them. It's the people with the power, people whose aspirations are for a better way of life for themselves, and their children. You have the right to believe what you believe, to write what you believe. I must respect you for that. But respect me for what I'm trying to do."
Mr McCartney subsequently chastised Mr Christie's comments, stating that Mr Christie's damnation of reporters were symbolic of the Christie administration's lack of respect for democracy.