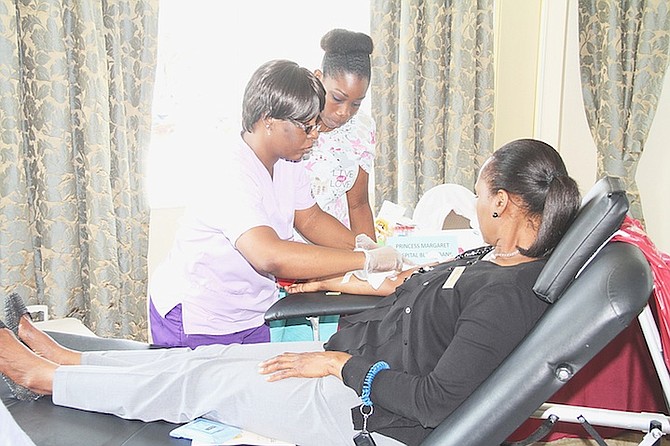 By ALESHA CADET
Tribune Features Reporter
acadet@tribunemedia.net
WITH its annual fair for employees, the managing staff of the British Colonial Hilton set out to prove that living healthy in the Bahamas does not have to be a challenge.
More than vendor booths were set up throughout one of the hotel's main ballroom to promote healthy lifestyles among the property's staff.
Tadashi Palacious, training and team relations manager at the Hilton, said not a year that goes by without an effort by the Hilton to focus on an initiative like healthy living. She said the event gets bigger each year.
"We are all about our team members here at the Hilton. They inspire us and we want them to be healthy so they will be able to come to work and of course do their jobs very well," she said.
"One of the things that assist with that is definitely healthy living. We have vendors from various gyms, restaurants, and a lot of health related businesses that provided free eye testing, blood pressure checks, and of course we invited outdoor sportsmen who brought a lot of their services and products here," said Ms Palacious.
She said vendors like Tasty Teas, who brought their natural tea products; the New Life Natural Vegetation Cell Food company, the Walk in Clinic and Weight Watchers were well received by hotel staff.
"People would think that is difficult to live a healthy lifestyle in the Bahamas, but I can definitely say that it is the new 'in' thing and trendy thing to be healthy and fit. We want to be able to provide our team with all of the information to make this easy for them," said Ms Palacious.
Johnathan Forbes of Tasty Teas told Tribune Health he was happy to provide his services at the health fair. He said the feedback they received was really positive.
"We have been open for three weeks now and we produce Bahamian iced teas, juices, filtered tea bags and whole leaf teas. For example, we take the Bahamian bushes and fruits and put them into all natural tea. Revelation 22:2 says that leaves are the healing of the nation, so we went back to the leaves when it comes to promoting healthy lifestyles. We have got a leaf and bush that is good for fevers, stomach cramps and much more, and they all taste good," said Mr Forbes.
He believes the health fair was important because Bahamians often indulge in food items they are not supposed to eat, for example the fast food. He said that is not where human beings started from and it is not where they are supposed to be. Mr Forbes said he promotes people finding natural alternatives.
Sharing similar sentiments, Donnaveo Sherman of New Life Natural Vegetation Cell Food said while most Bahamians still enjoy fast food restaurants, he thinks they are now increasingly leaning more towards getting into the healthy lifestyle trend.
"It could be a bit better, but it is good that people are aware and are changing their diets," he said. "They are eating the right types of foods that contribute to the removal of this high rate of diabetes, hypertension and cancer that is plaguing us now. People are walking, going to the gym, which is actually a plus, but it can always be a bit better. This is our second time here at the Hilton and the response is really good; people are interested in the products and they come to the store even after the event."
New Life Natural Vegetation Cell Food specialises in offering healing compounds. Established five years ago, Mr Sherman said the company has had tremendous results with the compounds they offer.