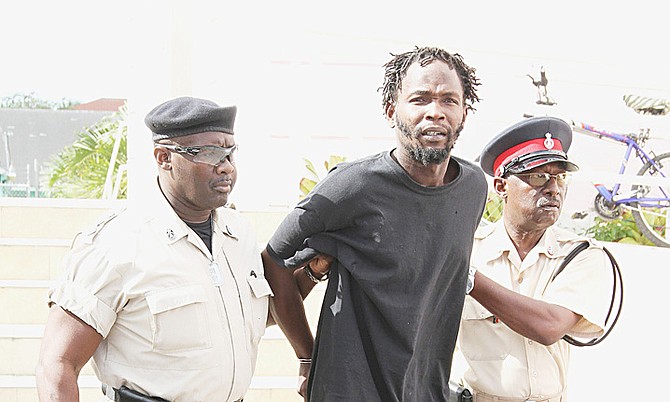 By LAMECH JOHNSON
Tribune Staff Reporter
ljohnson@tribunemedia.net
A JUDGE yesterday denied bail to one of three men awaiting trial in connection with the fatal Freedom Park, Fox Hill, drive-by shooting that killed four people and injured seven others.
Peter Rolle, 30, appeared in the Supreme Court before Senior Justice Stephen Isaacs to renew his application for bail ahead of trial set for September 2016.
The judge, after listening to his submissions, said there had been no change in his circumstances for the court to exercise its discretion to grant bail.
Rolle, Justice Williams, 23, and Jermaine Curry, 26, are accused of murdering four persons – Claudezino Davis, Shaquille Demeritte, Eric Morrison and Shenique Sands – on December 27, 2013. They are also charged with the attempted murder of Chino Davis, Janet Davis, John Davis, Benjamin Demeritte, Samuel Ferguson, Jermaine Pratt and Leroy Taylor.
Around 6pm that day, occupants of a small, dark vehicle opened fire "with a variety of weapons" in the area of the park just behind the basketball court where several persons were gathered awaiting Junkanoo results. Davis was pronounced dead at the scene while 10 others were taken to hospital.
Demeritte, Morrison and Sands died in hospital of their injuries.
Rolle had made a previous application before Justice Bernard Turner last October on medical grounds. However, his need for treatment for hypertension was not sufficient for the judge to grant bail.
Rolle, when allowed to plead his case for bail in yesterday's proceedings before Senior Justice Isaacs, told the court, "If you look at the VBI, none of the witnesses said they saw or mention my name inside the statements."
"DNA reference samples were taken and analysis done but nothing came back matching me," Rolle said.
Rolle claimed that he was brutalised in police custody and denied access to medical care. The applicant said that notwithstanding the lack of evidence against him and the police's own knowledge of the real suspects in the matter, the officers told him that "the public was coming down on their boss over the incident and that the public would accept someone of his appearance as the culprit."
"I told them (police) I was standing through Dorsett Street by Big K's convenience store that has three video cameras. I told them the videotape could prove this but they refuse to do that. I don't understand why I'm still inside Fox Hill prison for 16 months when they have the videotapes. I don't think it's justice that my freedom is being taken away from me and I'm charged with something I didn't do just because of the way I look," Rolle said.
Crown respondent Algernon Allen II objected to Rolle being granted bail and countered that the evidence of a particular Crown witness is sufficient for the charges to have been brought against Rolle.
"And the video," Senior Justice Isaacs asked.
"We don't have any information with respect to surveillance," said Mr Allen, who concluded that there has been no material change in circumstances for the applicant.
"There doesn't seem to have been appeal from any of the bail applications," the judge noted.
The prosecutor confirmed that none of Rolle's rejected applications for bail had been contested to the Court of Appeal. Mr Allen further emphasised that Rolle's trial date fell within the three-year period set out in statute law.
Senior Justice Isaacs told Rolle that he had considered submissions from both sides and having reviewed the previous applications for bail: "There's been no change in circumstances for the court to exercise its discretion to grant bail."
The judge, however, advised Rolle of his right to appeal his decision.
Rolle's co-accused Curry also appeared in court for a bail application.
However, he told the court: "I haven't really had anytime to look over the VBI."
"I was expecting my lawyer to be here so I'll have to be honest that I'm not really prepared. If I could have a few days to contact my lawyer or look over the VBI," Curry added.
The judge agreed to his request for an adjournment and deferred the bail hearing to May 7.