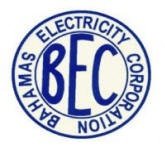 By AVA TURNQUEST
Tribune Chief Reporter
aturnquest@tribunemedia.net
LAYOFFS at the Bahamas Electricity Corporation (BEC) are likely as incoming management intends to lower electricity costs dramatically, according to a union chief yesterday.
However, Paul Maynard, the Bahamas Electrical Workers Union (BEWU) president, explained that the union is prepared to negotiate in the best interest of its workers and the country.
"It probably will," he said, "we're waiting to see when they reveal their business plans. They are expected to present in two weeks and we'll come to the table and negotiate.I would prefer to be at the table negotiating instead of downtown demonstrating."
Mr Maynard said: "It's better to be inside negotiating than outside demonstrating, and the deal is still getting made so you're not going to stop the process. Once it's above board the union will support it. The government gave the mandate that they want the light bill cut by 50 per cent, and that benefits the Bahamian people. The decision has to benefit them.
"If it's a whole new economy, if you can cut that bill in half, once that is done I'll be the first person to support," he added. "If it isn't I'll be the first person crying foul."
Nearly two years since the government initially announced plans to restructure BEC, it was announced that American company PowerSecure International was selected as the new management company. In a statement on Thursday, it was revealed that PowerSecure received a five-year contract to oversee generation and transmission/distribution.
The Tribune understands the decision was made early this week but Prime Minister Perry Christie informed both BEC unions and executive management on Thursday morning.
The process is expected to lower electricity costs, increase energy security and reliability, and increase competitiveness as a country.
Yesterday, Mr Maynard said: "The Prime Minister said to me that he did not want a situation to happen where we have mass layoffs and get they package money and it's wasted. If layoffs are happening, he said that we would have to explain how it's going to benefit the worker and where they are going to go.
"If we decide that we want to give packages, I need to come with a business plan of how it's going to work and where they will work."
When contacted for comment yesterday, BEC Chairman Leslie Miller said he did not have any details on the agreement, and had not yet been briefed on the management company's plans for the future.
According to Tribune Business, it is understood that BEC will have a new board comprised of new directors, while plans to restructure its legacy debt and other liabilities will run in parallel to Power Secure's work.
In response, Mr Miller said that he would accept whatever decision that was made regarding his position, adding that he was proud of what he and the board were able to accomplish during their tenure.
"We brought overtime down from $12m to $5.2m," he said.
"We stopped the double dipping with the entire public service, we did that. I am happy and proud of the record. Whatever decision they make I will be fine with it."