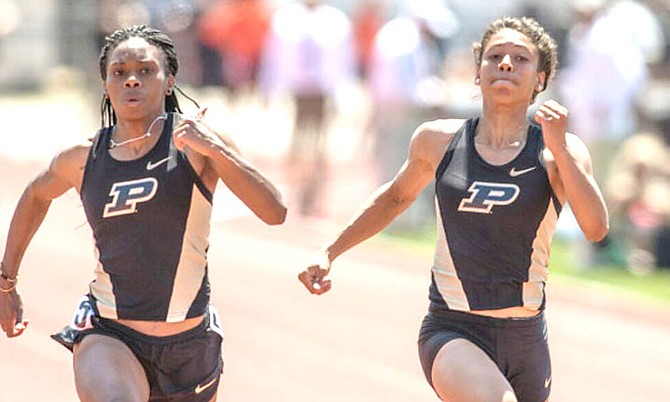 By BRENT STUBBS
Senior Sports Reporter
bstubbs@tribunemedia.net
ADD the women's 100 metre record to Devynne Charlton's growing list of accomplishments for the Boilermakers' athletic programme at Purdue University.
On Saturday at the Rankin/Poehlein Invitational in West Lafayette, Indiana, Charlton broke Purdue's 29-year-old school record. The sophomore, coming off another Purdue and Bahamian national record in the 100m hurdles the week before at the Drake Relays, clocked 11.49 seconds to shatter Sybil Perry's previous record of 11.65 seconds set in 1986.
The St Augustine's College graduate added the record to the list that includes the 60m dash, 60m hurdles, 100m hurdles, shuttle hurdle relay and as a member of the 4x100m relay. Her time is now ranked No.2 in the Big Ten this season and 36th in the country.
Just 20 minutes after that race, the 19-year-old was back on the track in the 100m hurdles. She won with a time of 13.17 seconds into a headwind of 2.1 metres per second. Despite the strong wind, it was the second-fastest time of her career.
In the 200m dash, Charlton finished fourth with a wind-legal time of 24.58 seconds. She also helped the women's 4x100m relay team to victory with a time of 44.74 seconds. Though not a season's best for the Boilermakers, only Ohio State has a faster 4x100m relay team this season than Purdue's time Saturday.
While Charlton was unavailable for comments, Bahamian Norbert Elliott, an assistant coach at Purdue, said Charlton is performing up to par, along with teammates Carmiesha Cox, who didn't compete, but holds the Boilermakers' 200m record and is a member of both the 4 x 100 and 4 x 400 teams that hold the records.
"Devynne doesn't surprise us anymore," said Elliott, who works closely with the female sprinters on the Boilermakers' coaching staff that is headed by Bahamian Lonnie Greene. "We know what she can do. She is certainly very, very talented and it's just amazing to see her, although it's not surprising anymore.
"She's still a sophomore and we were very impressed with her performance, especially in the hurdles. For her to back up what she did at Drake with the 13.1, which would have also been a PR prior to last week, proves that she's a competitor. We remember what she did at the CARIFTA Games that was hosted in Nassau, so we are happy and thrilled that she's ours and she's competing for the gold and black."
Time and time again, Elliott said Charlton has performed for the Boilermakers, who will take a break this weekend but return to action at the Big Ten Championships in East Lansing, Michigan, May 15-17.
Cox, also 19 and a graduate of Aquinas College, didn't compete over the weekend. Elliott said she was feeling a little tight so they decided to let her sit out the meet. But he indicated that she will be ready to go for the Big Ten.
"What a difference a year has made," said Elliott of the two stars, who signed at the same time and are now roommates at Purdue. "You're new and I'm new. It's almost automatic. You need time to adjust. They need time to adjust to us and we need time to adjust to them and we are seeing the results of us understanding them and they understanding us at this level.
"We always knew that they were capable of it. Sometimes folks just get too impatient and ask 'what is happening, they ain't doing nothing.' You just have to be patient. It's a sprint event, but it's a marathon sprint event. It's a four-year process. It's a growth process. You can't rush good things. This thing is like wine. It gets better with time."