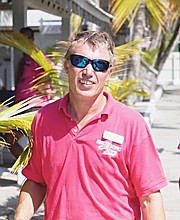 By SANCHESKA BROWN
Tribune Staff Reporter
sbrown@tribunemedia.net
TOURISM Minister Obie Wilchcombe said yesterday he is "very concerned" that crime is "ruining" the reputation of the Bahamas.
Mr Wilchcombe said he still believes the Bahamas has a "wonderful reputation" and the government now has to "spend all efforts" to protect the country's image.
His comments to The Tribune came three days after Gary Vanhoeck, an English man, was murdered on his sailboat at Stuart Cove's diving centre in western New Providence on Friday night.
According to reports, Mr Vanhoeck, a dive instructor and employee at Stuart Cove's, was shot twice in the head by two masked men during an armed robbery.
Mr Vanhoeck's wife was tied up during the incident but unharmed. Police currently have no one in custody but said they are on the hunt for four suspects.
Mr Wilchcombe said while any murder is horrific, the killing of tourists or residents, when the country relies so heavily on tourism "is a whole other level of horrific".
"There is a lot of concern about the crime situation," Mr Wilchcombe said. "The Bahamas has a wonderful reputation and despite the difficulty we have with crime, we maintain the reputation that generally we are a crime free society. What we now have to do is spend all efforts ensuring that we are not led by that image.
"The entire country, I am talking about politicians on both sides of the political divide, churches, civic groups, everyone must come on board with this crime situation. We have to work together to get rid of this issue because truthfully the attack on visitors is one thing but when you consider the residents and people who live here that have to battle crime that is another thing.
"It is my wish and my prayer that we continue to cause an awakening of the spirit of love. Right now there is just too much hate and violence and too many individuals churning the crime."
While police have not officially identified the victim, Stuart Cove, Mr Vanhoeck's boss, said in a statement yesterday: "Our dear friend and colleague Gary Vanhoeck, an English citizen, was killed in an attempted robbery on Friday May 1, 2015. Police are investigating and I am reluctant to postulate as to what happened until their investigation is completed."