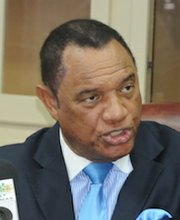 By DENISE MAYCOCK
Tribune Freeport Reporter
dmaycock@tribunemedia.net
PRIME Minister Perry Christie yesterday opened the World Customs Organisation IT Conference and Exhibition in Grand Bahama, where it is being held for the first time in the Bahamas, and in a Caribbean country.

Delegates from 75 countries are in Freeport attending the three-day "Inclusiveness Through Information Technology" conference at the Grand Lucayan Resort. This year, WCO is focusing on coordinated border management, which is of critical importance for facilitating trade whilst ensuring compliance.
Mr Christie was very pleased that the WCO had agreed on bringing their conference to the country, and particularly to Freeport.
"We are honoured to co-host this event, here in the Bahamas with such a globally significant inter-governmental body," he said.

In his welcome address, WCO Secretary General Kunio Mikuriya noted that the conference is taking place for the first time in a Caribbean country. It has been held in Australia, Dubai, South Africa, and in the United States.

Charles Turner, comptroller of the Bahamas Customs and Excise Department, John Fonseca, vice-minister of foreign trade in Costa Rica, and Mr Don-Hyun Lee, vice commissioner of Korea Customs Service also made short remarks.

During his opening address, Mr Christie said that the WCO is recognised internationally as the driving force of international trade facilitation, and noted that the World Trade Organisation (WTO) concluded negotiations on a Trade Facilitation Agreement in December 2013.
A study by OECD (Organisation for Economic Cooperation and Development), he stated has concluded that the implementation of the agreement, even on a partial basis could result in a 12 per cent reduction in international trade costs.
The prime minister said that customs administrations worldwide play a key regulatory role in their countries.
"The Bahamas is no different with customs (duty) contributing significantly to revenue generation while in the course of border protection," he stated.
He said that the Bahamas has relied heavily on import duties and taxes as a source of revenue like other small developing islands and small vulnerable economies, to fund government expenditure for public goods including education, health, social security, and public sector salaries.
Direct customs duties and taxes account for approximately half of the total revenue collected by the Bahamas Customs and Excise Department, Mr Christie said, which translates into 25 per cent of total government revenue.

"This situation is not sustainable," he said. "Global economic realities dictate that the government must diversify its revenue sources."
Mr Christie noted that the Bahamas government has implemented the Economic Partnership Agreement (EPA) as part of the Caribbean Forum with the European Union, which requires that customs duties and taxes on a broad range of products to be reduced in the coming years.
Additionally, he stated that the ongoing CARICOM-Canada negotiations to liberalise trade would also lead to a reduction in tariff rates even further.
The government has also started the accession process to the World Trade Organisation, which Mr Christie said requires further commitments on the government's part to reduce reliance on customs duties and taxes.
"It is clear that the trend for direct customs duty and tax rates is downward. Without alternative sources of revenue the government of the Bahamas could inevitably face significant revenue challenges.
"This is why on January 1, 2015 we followed other small economies to introduce a value added tax," said Mr Christie.
He also noted that the government has undertaken an aggressive programme of automation across all revenue collection agencies with the purpose of facilitating revenue compliance. New automated systems are being implemented for VAT, business license and real property tax collection.
The prime minister said the introduction of new IT systems is also important and must be beneficial to not only the government, but to commercial operators and the public.