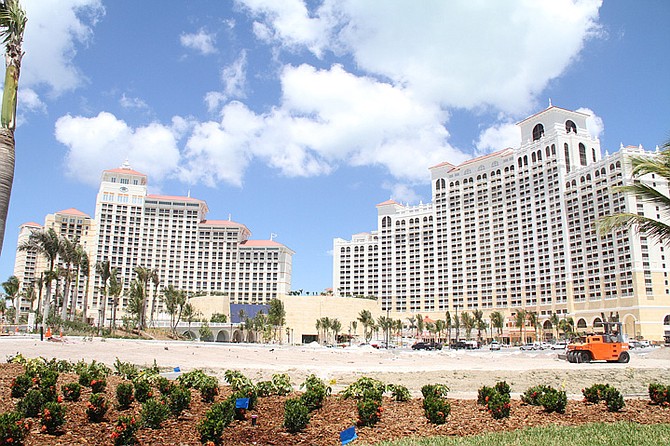 By AVA TURNQUEST
Tribune Chief Reporter
aturnquest@tribunemedia.net
TOURISM Minister Obie Wilchcombe yesterday said that the multi-billion dollar Baha Mar project was "too big to fail" as the government's mediation efforts continue over the luxury resort's stalled opening.
The $3.5bn mega-resort is five months behind schedule with no firm opening date. However, Mr Wilchcombe said the high quality product, paired with an intense marketing strategy, will overcome discouraging reports and disappointment experienced by hopeful guests.
He expressed optimism that the dispute over payment between the Izmirlian family and China Construction America (CCA) will be resolved "soon".
"The PM is in fact meeting with the various groups," he said, "the Izmirlians, the Chinese representative and ambassador. He's trying to get everyone to the table to understand what's at stake. I think there is some movement, but I don't know the details. We have the optimism that it will all work out.
"It will happen very soon, it can't sit there idle. It's too big for the region to fail, it's too big for us to fail. It can't sit there idle it must eventually open."
Last week, Mr Christie said the disputing parties were "very close to a settlement," and denied persistent rumours that Baha Mar is running out of the cash needed to finish the project.
In terms of the nature of the dispute between the parties, he said that the contractor wants "instalment payments" while the Izmirlian family is eager to know when the resort will be completed and available to open.
Baha Mar was originally scheduled to open in December 2014. The resort subsequently set a soft opening for March 27. After that date was delayed days before the planned opening, Baha Mar officials said they were aiming for an early May opening, however a new date has not been set.
Despite assurances by Baha Mar CEO Sarkis Izmirlian that the mega-resort would officially open soon, several pre-booked guests have claimed they were told that all reservations until August 31 have been cancelled.
Mr Christie has expressed fears that more delays would cause job losses for Bahamians.
When asked to comment on whether the rocky start will affect the resort's success, Mr Wilchcombe said: "I think the same enthusiasm will be there because of what it represents. It will require a tremendous amount of marketing, and a lot of events centred around the opening, but it will be outstanding."
The government has a commitment to Baha Mar to assist with marketing; however, Mr Wilchcombe said his ministry is mindful of the added expense incurred by the stalled launch.
"We have a commitment to Baha Mar, but obviously we will have to watch how the dollars are spent while we go through this period, and we are sitting with them. I think Baha Mar represents a fantastic new product in the tourism community in the Caribbean," he said. "It's the largest single resort in the region, it will maintain its appeal. It's associated with premier brands like the Rosewood, the Hyatt, and I believe marketing will have a tremendous effect once the doors open."
Mr Wilchcombe said: "The Bahamas is a tourism brand renowned for having high quality product, Atlantis is one, Island House has just opened another high quality product, Baha Mar will represent that. There is high expectation and there is some disappointment because people have booked and had expectations, but it will happen very soon."