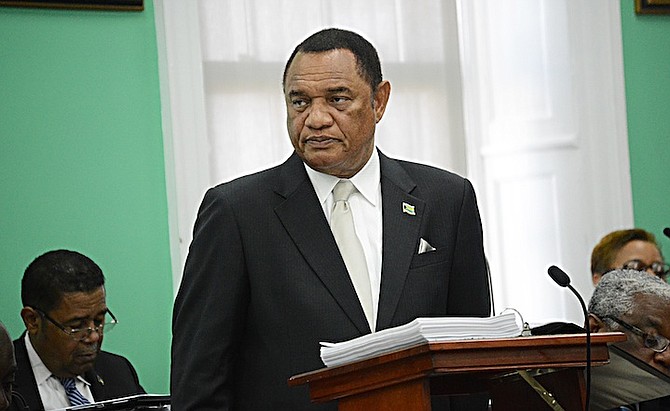 By KHRISNA VIRGIL
Tribune Staff Reporter
kvirgil@tribunemedia.net
PRIME Minister Perry Christie said the revenue performance of value added tax (VAT) since its implementation in January has opened the door for several customs duty reductions and some tariff eliminations to ease the burden on Bahamians.
During his 2015/2016 Budget communication in the House of Assembly yesterday, Mr Christie announced a 65 per cent maximum duty rate on vehicles down from the existing tax of 85 per cent.
In addition, the used car industry is set to experience a clamp down with the government's decision to ban the importation of wrecked vehicles and cars more than ten years old, Mr Christie said.
The decision was made for various environmental and safety reasons.
Mr Christie told parliamentarians that taxicab owners would also now be able to import duty free used vehicles up to three-years-old as opposed to the current existing restriction of new cars only.
He further announced the outright elimination of duty on several items, including medical equipment and supplies, bicycles, burglar alarms and audio/visual equipment used by churches. He also announced the duty rate on canned and frozen vegetables has been reduced, but did not specify by how much.
The tax incentives, Mr Christie said, are aimed at spurring economic growth, the creation of jobs, building repairs and improving the living conditions of Bahamians.
Mr Christie announced several real property tax breaks.
"We fully expect that, through better compliance and more equitable treatment of property owners, we will be able to offer Bahamians tax relief through lower tax rates, while still improving revenue yields.
"To do so, the strengthened compliance tools and the modernised administration platform are critical. The proposed amendments to the Real Property Tax Act will begin to give some relief to homeowners and businesses as well as strengthen compliance and enforcement.
"The following are some of the relief measures that we propose in this budget: a reduction in the top tax rates on owner-occupied residential properties with attached rental units, more pronounced property tax relief for pensioners in mid-value properties, the introduction of a 10 per cent discount for residential property for owners who pay their taxes early each year, and a harmonisation in commercial property tax rates at a lower level of 0.75 per cent."
The stamp duty on all real estate transactions is also being reduced to a lower, single tax rate of 2.5 per cent, Mr Christie said.
He also said that the government further proposes to put a two-year exemption on customs duty in place for building materials used to repair small homes and buildings in certain depressed parts of New Providence.
Mr Christie said his administration would also extend the exemptions under the Family Island Development Encouragement Act by an additional year and include Abaco, the east and west sections of Grand Bahama, Eleuthera and Bimini under the exemptions.
A reduction in the maximum rate for business licence fees from 1.75 per cent of turnover to 1.5 per cent, as well as reductions in rates for agriculture and fisheries operated businesses and for independent fuel distributors in the Family Islands, is also expected to come on stream.