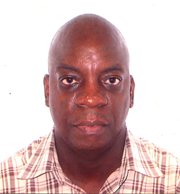 By BRENT STUBBS
Senior Sports Reporter
bstubbs@tribunemedia.net
IT'S not how you start, nor how you get there. Most importantly, it's how you finish.
• The Finish Line, a weekly column, seeks to comment on the state of affairs in the local sports scene, highlighting the highs and the lows, the thrills and the spills and the successes and failures.
THE WEEK THAT WAS
Not since we saw the emergence of Mark Knowles from the Nick Bollettieri Tennis Academy to the University of California, Los Angeles, has the Bahamas seen a player who has excelled up the ranks like Justin Roberts has.
Knowles, who went on to begin a professional career in 1998 after spending three years at UCLA, compiled a career win-loss record of 42-77 in singles, but more notable in doubles at 744-380 with 52 titles, including three from 10 Grand Slam final appearances to his ledger.
To tickle your fancy, Knowles ended up earning a whopping $7,000,000-plus before he officially retired in September 2012 after the US Open, only to come back in 2013 to play in the men's and mixed doubles for the last time at the prestigious Wimbledon tournament.
The 6-foot, 3-inch 43-year-old has had such a profound effect on the local tennis scene that 18-year-old Roberts is one of those players whose parents saw it fit to allow him to follow in the legend's footsteps through college.
Roberts, who has grown to 6-0, has just completed his freshman year at the University of South Florida where he teamed up with senior Oliver Pramming from Denmark to get the Bulls into the round of 16 at the NCAA Doubles Championship last week at the Hurd Tennis Center.
The duo lost 7-6 (0), 6-4 to Michigan State's Harry Jadun-John and Patrick Mullane.
Expect to hear the name of Pramming on the pro circuit very soon, but don't be surprised when Roberts makes his breakthrough after he's done with college.
What's interesting to note about Roberts is that he was already a household name on the junior circuit. The right handed player has played in a number of international tournaments and achieved so much success that he was selected to represent the Bahamas at the Youth Olympic Games last year in Nanjing, China, where he lost in the round of 16 in singles and 32 in mixed doubles.
Roberts, who began playing tennis at the age of seven, has a bright future ahead of him and if his vast improvement is any indication, he could follow in the footsteps of Knowles.
The two have one or two things in common. They didn't really progress until they went overseas. They didn't play as much in local tournaments organised by the Bahamas Lawn Tennis Association. And they had a solid base pushing them to excel.
Like Knowles, who went on to become the greatest Bahamian player at the Davis Cup level, I'm sure if given the chance, Roberts can be a formidable member of the team in the future. He wasn't named to this year's Davis Cup team because he didn't compete in the BLTA's Georgio Baldacci National Tournament in December.
There are some who say they would like to see Roberts come home and participate against the local players on a regular basis at the national tournaments like the one in December, which is supposed to showcase all of the top pro and collegiate players, but not all do.
I'm sure in time the opportunities will present itself.
In the meantime, it's not an easy feat to play for a Division I programme that reaches the NCAA Championships. It shows that as a player, Roberts must have done something to help USF.
USF head coach Matt Hill could only sing the praises of Roberts when he indicated to The Tribune last week that Roberts competed like a senior in terms of his composure and toughness even though he is only a freshman.
Hopefully with those type of credentials, Roberts can come home and help the Bahamas just as Knowles did before he powered his way to an impressive showing over the years on the pro circuit.
FIFA DILEMMA
For years, FIFA - the world governing body for soccer - has been under scrutiny and it finally blew up this week when US Justice Department accused 14 people, including nine current and former FIFA officials, of racketeering, conspiracy and other charges.
Not only were the headquarters of FIFA raided in Switzerland among scandals and rumours of corruption, but the regional offices in Miami, Florida were also under investigation with some officials arrested.
The latest allegations surfaced around the voting of the bids to Russia and Qatar to host the World Cup in 2018 and 2022 respectively and it comes on the eve of today's FIFA's elections.
Sepp Blatter, 79, is seeking his 17th year in office as president. He was first elected in 1998 and re-elected in 2002, 2007 and 2011.
The Bahamas Football Association was at the focus of an alleged corruption in 2011 when president Anton Sealey and secretary general Fred Lunn blew the whistle on a scandal at a Caribbean Football Union meeting in Trinidad in May, 2011.
At the time, up to 25 CFU officials were offered envelopes containing $40,000 in cash at the meeting hosted by FIFA's vice president Jack Warner, in an alleged effort by Bin Hammam to persuade them to vote for him in the then FIFA presidential election.
Both Hammam and Warner denied any wrongdoing with Hammam saying that it was all a part of a conspiracy designed to derail his chance to be FIFA president.
For their part, the Bahamas was awarded by FIFA, who has hosted a series of events, including one of their congress meetings at the Atlantis resort on Paradise Island. Blatter was recently in town for another series of meetings.
Neither Sealey or Lunn were available for comments as they are among the delegates in Switzerland for this year's congress and election of officers.
It will be good to see what comes out of this latest development in FIFA and how the Bahamas will benefit.
Could the Bahamas get a place on the new board when the elections are over and done with or would any of our members be given a chance to work on any of the committees for their support of Blatter?
The Bahamas should get a little more out of the deal.
The Week Ahead
Prime Minister Perry Christie unveiled the 2015/2016 Budget Communication in the House of Assembly. Now it's time for the debate to begin.
It will be interesting to see what comes out of the appointment of AEG to manage and further develop the Queen Elizabeth Sports Centre facilities, including the new Thomas A Robinson National Stadium and the soon to be constructed Andre Rodgers Baseball Stadium.
Christie has noted that his government will be embarking on a major programme to provide sporting facilities and great lawns for training and sporting purposes. And they will be partnering with the private sector to develop facilities to provide sporting and training opportunities for young people to realise their potential.
There has also been talk about the revamping of the governent subvention to elite athletes with a different programme offered that will award the athletes based on their performances.
No doubt, many of the federations and associations will be listening to see if there is an increase in the purse offered to the Ministry of Youth, Sports and Culture and whether or not there will be something more in the kitty for their annual grants.