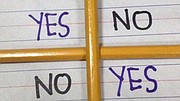 By RASHAD ROLLE
Tribune Staff Reporter
rrolle@tribunemedia.net
THE Ministry of Education has sent a memo to school administrators around the country, urging them to prevent students from playing the "Charlie Charlie" game that some believe involves the summoning of supernatural spirits.
Some people treat the game - which has surged in popularity worldwide this week - as a serious concern while many others react to it incredulously.
The game's origin is disputed, but it is often depicted as a form of 'Mexican demon worship' resembling an Ouija board.
To play it, people position two pencils in the shape of a cross on a paper with the words "yes" and "no" written on it. Participants then repeat the phrase "Charlie, Charlie can we play?" in order to connect with an alleged demon.
Some believe that if a supernatural spirit is present, the pencils will move to indicate an answer to the question posed.  
Around the Caribbean, there are reports of children allegedly being rushed to hospitals because of the game.
"We sent notes that administrators be aware and ensure that those are not practiced in our schools," Education Director Lionel Sands said on Friday.Despite widespread reports that the game is being played in Bahamian schools, Mr Sands said he could not confirm their veracity.
Asked to respond to those who think the game is harmless and therefore does not require intervention from officials, he said: "It should be regarded as serious. When dealing with supernatural things, I can't explain it, but I don't want our kinds to be exposed to anything supernatural that causes problems. It's difficult to explain but we don't know the extent to which this could impact our children so I wouldn't sanction it."
Asked how officials could stop students from playing a game whose impact is disputed, he said: "You can't stop them from playing it outside school but we can stop them from playing it in the school because they are under the supervision of teachers always and the only time they have for themselves is lunch, during which they still should not be engaging in those kinds of games."
There have been unconfirmed reports about the game causing disturbances around several local schools, including Sandilands Primary School and Anatol Rodgers High School.
The Tribune can confirm that Anatol Rodgers High School sent a letter to pastors and ministers, inviting them to come and pray on the school's campus and in classrooms where "students have been performing such acts."
Southwest District Superintendent Julian Anderson said that no particular incident, to his understanding, prompted the school's officials to take such action, saying he believes they merely view it as an important preventative measure.
Regarding this, Mr Sands said he would sanction inviting parents and pastors to gather at schools in order to pray about the matter.
Meanwhile, numerous voice notes have been spreading on social media featuring children describing disturbing expierences that allegedly took place after they had played the game.
One about the issue involved a woman purporting to be a teacher at Sandilands Primary School. She spoke about students being "under attack," adding that the alleged incident prompted the school to invite pastors to the campus to pray.
When asked about this, a senior administrator of the school declined to comment, referring The Tribune instead to the Ministry of Education where officials also could not confirm or deny such reports.
An official in the North Eastern District office merely said she has heard that the game is being played in schools, but could not speak to whether unusual incidents have taken place.
Although most reports indicate that the game originated in Mexico, a BBC news report quotes experts who say the game has nothing to do with Mexican folklore.