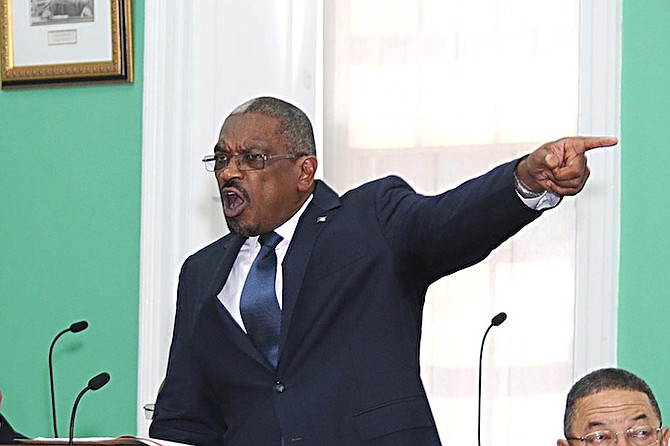 By SANCHESKA BROWN
Tribune Staff Reporter
sbrown@tribunemedia.net
FNM Leader Dr Hubert Minnis yesterday called the Christie administration the "worst government this country has ever seen." Crime will continue to rise as long as they are in power, he said.
In an interview with The Tribune, Dr Minnis said the murder record is not the only record this administration will break. The Christie administration, he said, will also hold the record "for the most false promises and the most talk with no action."
On Monday, the country recorded two more homicides, pushing the murder count to 127 for the year, tying 2011's record for the highest number of murders ever recorded in the Bahamas. That record was set during the former Ingraham administration.
While in opposition, the Progressive Liberal Party frequently called for the resignation of then Minister of National Security Tommy Turnquest over the rise in crime and murder. The PLP also campaigned on a general election platform that it had solutions to crime, however violent crimes and murder continue to be a problem.
Yesterday Dr Minnis said the PLP is clueless on how to solve the issue.
"(Prime Minister Perry) Christie and his boys have no clue what they are doing. They have no idea what to do when it comes to crime and governance. They have no direction and no clue on how to fix the crime problem because they blame everyone but themselves," Dr Minnis said.
"They are truly the worst government this country has ever seen. We put forth a plan to deal with the crime problem. It included a revolutionary concept on community policing, we spoke about police cars being situated in hot spots and we gave them a point-by-point solution that they have not adopted. The PLP is clueless and the country will continue to suffer under them."
Dr Minnis also criticised National Security Minister Dr Bernard Nottage for remaining silent "while the country burns."
"Didn't he say a couple (months) ago, that they were going to do community walkabouts and do something to fix this crime problem? Well I haven't heard anything since then. Why hasn't he addressed the public yet? Is he waiting for more people to die, more blood to be shed? This is ridiculous."
In September, Dr Nottage blamed the judiciary for the country's crime problem, and blasted judges for failing to impose stiffer penalties and not properly enforcing laws that are on the books.
Speaking in the House of Assembly at the time, Dr Nottage said that some magistrates give lighter sentences to criminals because the accused is someone in society's "good son". He said it is hard to believe that some judges live in the same country and still only give criminals "a slap on the wrist" when they appear before them.
Dr Nottage also said the government was "coming back to Parliament very shortly" with new measures to assist in the fight against crime.
"We hope these will assist us in the extraordinary task that we have to reduce and minimise the loss of death of our young people," Dr Nottage said.
However, this proposed legislation has not been tabled in Parliament yet.
In August, Dr Nottage gave a national address on crime, however, it was widely criticised for "lacking depth" and providing little new strategies for crime fighting.