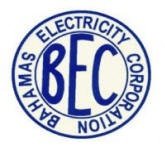 By SANCHESKA BROWN
Tribune Staff Reporter
sbrown@tribunemedia.net
THE Bahamas Electricity Corporation yesterday blamed a "faulty circuit breaker" for a power outage that left 25 per cent of New Providence without electricity for hours on Thursday morning.
In a statement, BEC said a circuit breaker failed at one of the 33,000-volt substations at the Blue Hills Power Station just before 6am and a failure of a 33,000-volt cable between the Blue Hills and Solider Road Substations shortly thereafter caused the outages.
However, the statement did not mention several outages that occurred Wednesday night, which plunged parts of eastern New Providence into darkness for several hours.
Some residents complained that they had no electricity from 8pm Wednesday until 4am on Thursday.
The statement from BEC only explained what happened beginning at 6am on Thursday.
"This resulted in the outages, impacting customers in the Soldier Road/Robinson Road areas, Fox Hill and portions of the eastern area, the Wulff Road (eastern section) and surrounding areas, sections of the Carmichael Road and Blue Hill Road south areas, sections of the Tonique Williams Darling Highway and parts of Yellow Elder," the statement said.
"The faulty equipment and cable were isolated and supplies restored to all the affected customers. BEC officials advise that the outages were coincidental and that technical teams are working to repair the faulty equipment. The corporation apologises to its customers and assures them that every effort is being made to stabilise its systems to provide an uninterrupted supply of electricity to all of its customers."
Some angry residents took to social media websites to vent their frustration on the power cuts.
One upset customer said: "Really? Again? Three times in four fours. Leslie (Miller) hasn't been gone one week yet and they can't get control of that company. It's not even worth getting mad anymore. I just know to expect my power to be off every night."
Another said: "It's a good thing I ironed last night, (power) went off this morning and never came back on. Trying to get to work was ridiculous – all the traffic lights were off. It took me an hour to get to work, usually only takes about 15 minutes. When are we going to get it together?"
A business owner said: "I had to shut down all the power from my business for several hours because the power kept turning on and off all day. I was terrified it would fry my equipment and we all know BEC was not going to pay me back."
BEC has been grappling with issues over the past few months, which have led to multiple power outages.
The government began negotiations with American company PowerSecure International over a five-year BEC management contract in May, and signed a transition services agreement in late July. At that time, Deputy Prime Minister Philip "Brave" Davis said the new plan would ensure fewer blackouts and power outages for the country.
A new BEC board was appointed on Monday.