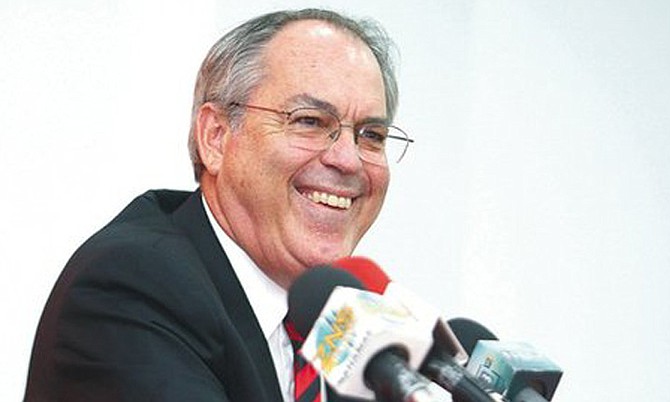 By KHRISNA VIRGIL
Tribune Staff Reporter
kvirgil@tribunemedia.net
PRIME Minister Perry Christie's suggestion that he could soon be drafting legislation to block MPs from switching sides without resigning from their seats is a bid to prevent further defections from his party because it has obvious problems, former Cabinet Minister Brent Symonette told The Tribune on Friday.
Mr Symonette said the Progressive Liberal Party is falling apart due to Mr Christie's inability to govern causing displeasure among Bahamians and many of the party's supporters.
He added that he saw no issue with Bamboo Town MP Renward Wells or Fort Charlotte MP Dr Andre Rollins leaving the PLP to join the Free National Movement as the opposition bids to be elected to government in the 2017 general election.
The former Deputy Prime Minister predicted that in the lead up to those elections, the country will see many more "interesting" changes.
"I wish them well. The FNM is a big tent and it's obvious that there are problems within the PLP," Mr Symonette said. 
"Christie's party is falling apart because he is unable to govern and people are unhappy. It's only a short time before the FNM is the next government of The Bahamas.
"Perry Christie said he wants to change the Constitution to avoid these people changing parties. He left the PLP himself way back when and then went back. They forgot that. He is obviously scared and he wants to make sure that there aren't anymore defections.
"There is obviously dissension in the PLP and I think that, yes, some of them might move to different political parties but so have a lot of people. The PLP now has lost track of where it is. They have lost their sense of direction so why shouldn't people be allowed to jump ship?"
Asked if there should be concerns about Dr Rolllins' reputation as a "rogue" MP, Mr Symonette said he saw no issues.
"Well then, what do you call Leslie Miller? What do you label V Alfred Gray? Who's perfect in this world? They've got plenty of rogue people in the party.These are interesting times. Predicted lots of changes coming down to 2017," Mr Symonette said.
On Wednesday, Mr Wells and Dr Rollins joined the opposition FNM after a long run of frosty relations and contention with the PLP.
In response to the move, Mr Christie said he was not surprised by the move as he described the PLP as a big tent with a revolving door. 
It was at this time that Mr Christie suggested that he was considering drafting legislation to block MPs from switching sides without resigning from their seats, which would cause a by-election, as they are elected by voters to represent a particular political party.
While congratulating the MPs, Mr Christie also suggested that his party's success in the upcoming 2017 general election would not depend on Wednesday's events, but with the Bahamian electorate.