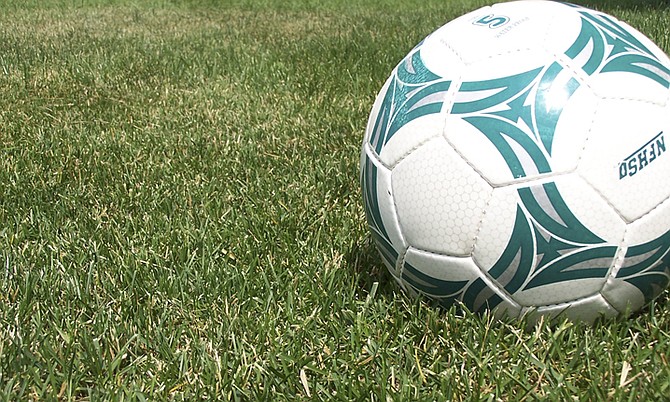 A standoff at the administrative level between the Bahamas Football Association and several of its member clubs has displaced over 800 youth soccer players.
Several clubs, including the FC Nassau Pirates, Baha Juniors FC, Youth Empowerment Soccer International (YESI), Manta Rays SC and Lyford Cay FC have been "excluded" from the BFA Y-League and all other leagues. Executives from these clubs discussed how the groups have arrived at an impasse.
In August there was a meeting to discuss ongoing concerns that clubs have with the running of leagues. Two major issues were tabled, one being the limitation of only one team in the under-12 age group. The second was the need for a better structure for the developmental age groups of under-10, under-8 and under-6.
"Last season the rule was put in place to limit a club to one team in the Y-League. This created a major problem where roughly 30 kids participating in the under-12 age group were not allowed to play in league games. This season, with more kids moving up into that age group, the one team limitation was going to sideline over 50 kids."
The need for a more organised structure for the developmental kids was mainly because the BFA's attempt at a schedule was to have one club play another club.
However, some clubs would have up to 40 kids in an age group and travel to a club that only had 10 kids. One club last season worked hard each week to try and organise games so that all their kids could get proper playing time by bringing more than one other club to their field. This worked, but also proved that better organisation was needed. There is nothing wrong with one club having 10 players and another having 40, but to schedule them to play each other without bringing in a second or possibly third club to level out the numbers is needed.
The issues between the factions prompted the formation of the Bahamas Developmental Soccer League to accommodate the players at the younger age groups and to provide a platform for the potential kids restricted by the "one team" rule.
"We wrote two letters to the BFA requesting affiliation and did not receive a response for either. The letter from the BDSL group stated our intention was to foster the development of youth soccer. At this point these developmental age groups are being neglected. Two weekend events were held with our friendly matches. The teams that participated played multiple games and have already played more games that they were scheduled to play by February based on the history of how the younger kids have been organised in the past," one of the club executives said. "We wanted to start, but start the right way and that's why we started with friendlies. We invited everyone, all clubs to participate.
"The exclusion included the age groups that are entered in the BFA leagues. Instead of just excluding the kids in the younger, non-competitive groups, which is the U-6, U-8 and U-10, they took all of the clubs teams off of the schedule for U-12, U-14 and U-17 boys and girls and senior men," another club executive said.
"There were other teams that were not excluded which participated in the same friendly games that we had. Two other clubs have been allowed to continue with the BFA league and one of them continues to also participate in the BDSL. Neither have received any exclusion or disciplinary action.
Among the clubs "excluded" there are many youth national team players that have been given an ultimatum where they are forced to consider leaving their current club in order to continue to participate with the national player development programme.
"They have been told they have participated in a league that is not sanctioned. However it was not a league at that point, it was a group that came together to participate in friendly games."
An emergency transfer window was created by the BFA to try and take players away from the "excluded" clubs, even while they were still BFA members. Not many players have transferred to other clubs, but during this transfer window, the "excluded" club players were approached by BFA employees and other clubs in an attempt to steal players. This is a clear violation of Article 2 of the BFA Statutes stating "1. To foster friendly relations among the leagues and affiliates, and their officials and players by encouraging football matches at all levels; amateur, non-amateur, professional and in all other appropriate ways."

"The emergency transfer window was created aimed at encouraging parents to remove their teams from our clubs. This communication stipulated that they can transfer without notifying their current clubs," the club source said.
Last year the BFA would not make any exceptions to the transfer window when these same excluded clubs were trying to register roughly 15 children whose teams could not participate due to various reasons.

We were told we have to enter an under-12 team in the league and a week later we were sent a communication with two days notice saying we would be allowed two U-12 teams. So we were thrown into a corner after having planned out our various age groups for the last month.
"The BFA said that if we wanted to have a recreational league, we would have to do it on our own. That is what we did." The question was asked, 'If we do our own league for recreational purposes in the developmental U-6, U-8 and U-10 age groups, would our other teams in the BFA be affected?' and the answer was 'no.' Over five weeks later, the BFA decided last minute to allow two teams. An email was sent out on October 16, 2015 at 4:25pm stating that we had to notify the BFA by Monday how many U-12 teams we would be submitting to the BFA. At this point, over five weeks later, other decisions had been made to accommodate the U-12 kids and making a last minute decision to change this was something the affected club presidents needed to discuss with their clubs and parents. Given the BFA's time limit to respond was barely over 48 and over a weekend, this was an unreasonable amount of time for a club to have a proper response.
The clubs mentioned sought to dispel the misconception that it is a matter of affluent members of the community of ex-pats seeking to separate themselves from the BFA. The group called the decision against them as a political "power play" by executives.
"They don't see giving kids an opportunity to play as being proper. It's not a situation where we decided to leave the BFA. We set out to be affiliated with the BFA," one club member said.
Another added: "There needs to be a change of football in this country. A month ago the FIFA World Rankings came out and we were last in the world. If that doesn't say enough to the public about the state of our game I don't know what will. The only resolution to me would be that the BFA accepts us as an affiliate and the older teams would be allowed to participate in the BFA. The only reason we wanted a different league is because they refused to do more for the younger kids. They didn't want to schedule the younger kids or allow us to enter more than one team and we can't cut off such a large portion of our club. To us this is saying, "they don't care about the future of the game. They don't appear to want youth development and with recent issues with the men's national team they don't appear to care about them either. It seems to be all about power and politics."