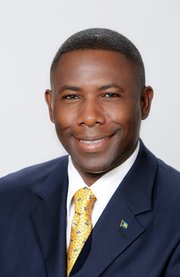 By AVA TURNQUEST
Tribune Chief Reporter
aturnquest@tribunemedia.net
BAMBOO Town MP Renward Wells said yesterday he would not return to front line politics if he did not secure a nomination with the Free National Movement in the next general election.
Mr Wells said the decision on whether he would become the standard bearer for the FNM in 2017 was the sole discretion of the constituency branch. The MP left the Progressive Liberal Party to join the Official Opposition last week.
He told The Tribune yesterday that he has received a "better welcome" from the FNM than when he left his fledgling third party – the National Development Party - to join the PLP in 2011. He added that he has yet to see the discord that has reportedly fractured the FNM.
"If the FNM branch or constituents will have me then, yes I will run again," he said when contacted for comment. "It is their things, they can decide who they want to give it to. It is their job for them to choose.
"If not, I would have tried the third party, I would have tried PLP, and I would have tried to see Bahamian people achieve a new day under the FNM. I would step to the side and keep preaching as to what should happen and hopefully a younger person or my generation will take up the mantle."
Mr Wells added: "There are other ways to make a contribution. This generation, we are all speaking the same things - the need for food security, energy security, and better education. I believe a new day will dawn, and there will be a better brighter Bahamas."
Mr Wells crossed the parliamentary floor to join the FNM last Wednesday with then independent Fort Charlotte MP Dr Andre Rollins. Dr Rollins left the PLP in June.
He told The Tribune that the FNM's leadership and ground troops that have approached him since the move have been very supportive of them, with the exception of "one or two persons" on social media.
Both Dr Rollins and Mr Wells were fired from their government posts in 2014. Mr Wells was removed from his post as parliamentary secretary in the Ministry of Works over a $600m letter of intent scandal, and Dr Rollins from his post as Gaming Board chairman after he launched into a scathing critique of Prime Minister Perry Christie.
Last week, PLP Bamboo Town Branch Chairperson Patricia Deveaux lashed out at Mr Wells over what she called his "unceremonious" departure.
She said the former PLP had proved himself to be "selfish" and "unreliable," and accused him of "rank hypocrisy".
Yesterday, Mr Wells explained that while he loved his former party branch and its members he was not surprised by the political attack.
"They have a right to say things to me that they feel," he said, "all the things they spoke about have been adjudicated on in the press a long time ago. To try and rehash and pull up other things with an attempt to undermine me or my character – that's politics, that's expected and I assume a lot more of those kinds of things, I would expect to see in a campaign going forward."
He added: "I always take statements in light of who's saying it and why they are saying it."
The Bamboo Town MP maintained that he would continue to promote his ideals and principles, which he said were not affected by his new platform.
He explained that he did not consider becoming an independent MP because it would limit his ability to effect change even if he were re-elected to the House of Assembly.
"The independent route for me is very much like the third party route," he said. "Dr Rollins and myself have already been in the third party movement in the Bahamas. The independent (avenue) is not one that has any impact in my estimation going forward. We are not the kind of parliamentary democracy that operates well with independents.
"Even when I was in the third party movement, many people would say 'I like what you say but I can't vote for y'all, if I put you in you can't do nothing for me.' (Bahamians) want to vote for an entity that once you hit the ground I can see an effect, not to put you in and you preach and preach in the House of Assembly and maybe one day you will get others to make change."
When asked about the possibility of running for a post in the next FNM convention, he said that he did not see himself vying for an executive position within the FNM in the "immediate future."