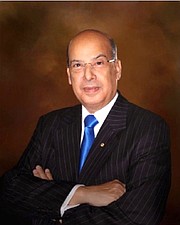 SIR Ronald Sanders, who is vying to become the first Caribbean national in more than 20 years to hold the the post of Secretary General of the Commonwealth, has been assured of the support of the Bahamas by Prime Minister Perry Christie ahead of the vote at the end of this month.
The Antigua and Barbuda ambassador to the United States was in Nassau this week to address the 2015 Global Leadership Forum and yesterday confirmed to The Tribune that during his two-day visit he had met Mr Christie, who assured him of his support and his desire to seek agreement among Caribbean heads of government for his single Caribbean candidacy. Sir Ronald said that he was grateful to the Prime Minister and to the government of the Bahamas.
Regional leaders have called for a consensus over a Caribbean candidate in the face of nominations from African countries Botswana and Tanzania for the post, which will be voted on at the Commonwealth Heads of Government Meeting in Malta on November 27 to 29. Mr Christie and a Bahamian delegation plan to attend the meeting.
Antigua and Barbuda has nominated Sir Ronald, its former high commissioner to the United Kingdom and the son-in-law of Sir Shridath "Sonny" Ramphal, of Guyana, the last Caribbean national to hold the post.
Dominica has nominated former UK Attorney General Baroness Scotland, a life peer in the House of Lords. Baroness Scotland – born in Dominica – has held numerous ministerial positions within the UK government.
However, critics dispute that Dominica's nominee is truly a Caribbean candidate because she left Dominica with her family at the age of two to settle in England, where she was educated, married and became a part of the British government.
Trinidad & Tobago had nominated academic and politician Dr Bhoendradatt Tewarie but withdrew his candidacy on October 29 in favour of endorsing Sir Ronald.
If no consensus over a single Caribbean candidate is reached before the vote, the region would miss out on an opportunity to hold the top post.
Mmasekgoa Masire Mwambawho, former deputy secretary general, has been nominated for the post by Botswana. Tanzania has nominated its foreign minister, Bernard Membe.