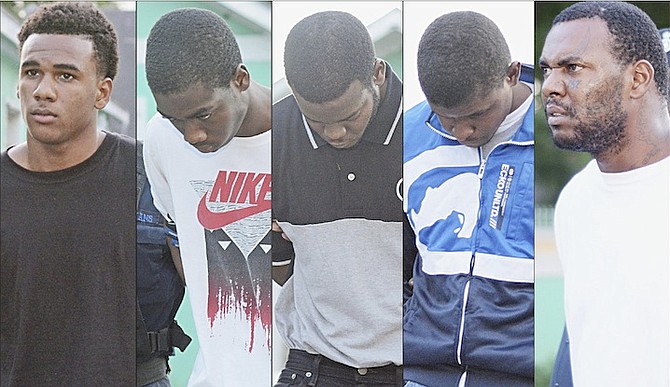 By LAMECH JOHNSON
Tribune Staff Reporter
ljohnson@tribunemedia.net
AMID tight security, cordoned off streets and in the presence of armed police, five men who denied being members of a gang when arraigned in Magistrate's Court yesterday face up to 20 years in prison if convicted of the criminal offence.
Delanzo Cartwright Sr, 37, his 19-year-old son, Delanzo Cartwright Jr, along with Deron Neely, 27, Rashad Laroda, 25, and 18-year-old Devonte Burnside, were escorted through the court complex under heavy armed guard to be arraigned on multiple criminal charges, including being a member of an unlawful gang. The name of the gang was not disclosed on court dockets.
Armed police, under the direction of senior officers, including Assistant Commissioner of Police Stephen Dean and Chief Superintendent Clayton Fernander, blocked off the entrances to and exits from South Street until the men were transported to the Department of Correctional Services after 6.15pm.
They had been brought to Nassau Street Police Station as part of a convoy of six police cars at 2.30pm and there was a three-hour lag between the arrival of the alleged gang members' processing there and their arraignment before Magistrate Andrew Forbes at 5.45pm.
The five men pleaded not guilty to the charge of being a member of an unlawful gang, which is to be tried in the Supreme Court. A fixture hearing was set for December 1 in Magistrate's Court.
Cartwright Sr, his son, and Burnside were further charged with 15 firearm related offences - conspiracy to possess firearms with intent to supply, conspiracy to possess ammunition with intent to supply, possession of an unlicensed firearm, possession of an unlicensed firearm with intent to supply and possession of ammunition with intent to supply.
They pleaded not guilty to the charges.
It is alleged that sometime between August 1, 2013 and November 6 this year, the trio conspired and possessed, for the purposes of distribution, a Smith and Wesson MP 10, a Narco 7.62 rifle, a Sager 7.62 rifle, a .76 rifle, a Mossberg 12 gauge shotgun, 19 live rounds of .308 ammunition, a live shotgun shell and 44 live rounds of 7.62 ammunition.
When Magistrate Forbes proceeded to arraign Cartwright Sr on armed robbery and burglary charges, the visibly irritated accused said police had already accused him of being in possession of guns despite him being in the state's custody during the discovery.
The magistrate told him it was an issue for his lawyers to bring up, once he is taken to the Supreme Court.
Cartwright Sr is accused of breaking into a Village Road residence on November 5 and robbing a man of $21,000 of high-end jewellery and a $1,600 Mossberg shotgun.
Burnside was also charged separately with stealing a 2005 F-150 truck and a Smith and Wesson rifle. He is accused of dishonestly receiving the latter.
All matters were adjourned to December 1 and the men were denied bail.