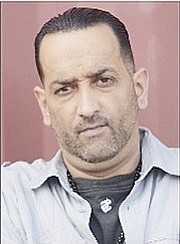 By NAUGHTY
naughty@tribunemedia.net
Last week I went 7-6 moving me to 77-55 for the year, and somehow vaulted into third place behind Barry Wilner, of the Associated Press, and Sannie, who is obviously tired of beating Renaldo by himself so she's spreading the cut skin around.
I will take it none the less, the jump to third place - not cut skin from Sannie, for the record!
Anyhow, here's who I'm going with this week, short and sweet.
Bills v Jets
In this New York State battle, I've got to go with the home team.
Yes, Tyrod is back for the Bills, and their defence is stout, so why am I not jumping all over them?
Simple. The Jets are at home, and the offence is now gelling, giving the Jets defence the support it needs. In short the Jets are now playing well on both sides of the ball.
Jets at home in a big division win.
Jets 27 Bills 24
Jaguars v Ravens
Ravens coming off of a bye, the Jags off a loss.
Youth is served: the Jags keep their AFC South division hopes alive with a big road win.
Jags 24 Ravens 20
Browns v Steelers
Here we go again, Rothlisberger out for the Steelers, joking RB LeVeon Bell on the sidelines.
Welcome to my world Steeler fans, no tears for you hear. Injuries are part of the game.
Despite all of this, the Steelers continue to find a way to get it done. They continue getting it done this week at home against the division rival Browns.
Steelers 23 Browns 17
Panthers v Titans
Panthers remain undefeated until my Cowboys beat them when they meet.
Panthers on the road.
Panthers 31 Titans 20
Bears v Rams
No repeat of Monday night here. Rams at home, Rookie RB Todd Gurley continues to shine for the Rams.
Rams 27 Bears 20
Cowboys v Buccaneers
I was a week premature ... the Cowboys start their eight-game winning streak this week in Tampa against an improving Jameis Winston at QB for the Bucs.
Too much Dez and McFadden in this one for the Bucs.
Cowboys 31 Bucs 23
Lions v Packers
Perfect remedy for the Packers recent two-game losing streak - a home game vs the Lions.
Packers 34 Lions 17
Dolphins v Eagles
I don't usually do this but, what the heck, Dolphins on the road in an upset.
I got this 'funky feeling' which had nothing to do with Jack Daniels, so let's roll with it.
Dolphins 24 Eagles 20
Saints v Redskins
Attention fantasy owners, points are going up in this one.
Saints on the road against a tough Redskins team, Brees over Cousins in this weeks edition of 'QB Shootout.'
Saints 31 Redskins 30
Vikings v Raiders
I like this young offensive unit of the Raiders, and they are at home.
The Vikings will be tough but not tough enough. The Raiders show some moxie at home.
Raiders 23 Vikings 20


Chiefs v Broncos
Broncos rebound at home in a close one vs the Chiefs.
Broncos 27 Chiefs 20
Patriots v Giants
Brady gets revenge, and the Patriots keep rolling on undefeated.
Patriots 34 Giants 24
Cardinals v Seahawks
The Cardinals on the road in this one, I just see them as the better team right now.
Seattle are not who they used to be.
Cards 27 Seahawks 24
Texans v Bengals
No long talk here. Bengals remain undefeated at home.
Bengals 27 Texans 17
• Naughty presents 'Mischief and Mayhem in da AM' from 6am to 10am, Monday to Friday and 'The Press Box' sports talk show on Sunday from 10am to 1pm, on KISS FM 96.1. Comments and questions to naughty@tribunemedia.net