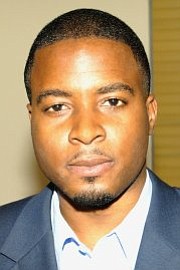 By ADRIAN GIBSON
ajbahama@hotmail.com
ON the face of it, human rights appears to be a non-starter in certain quarters of The Bahamas. It is tantamount to a non-sequitur and we pay little attention to it unless and/or until it comes to our front door. Unfortunately, the rights of Bahamians and foreigners are trampled daily, particularly by over-aggressive law enforcement officers, politicians seeking to use their plight to bolster their political standing and certain Bahamians whose classism, elitist or xenophobia hinders them from seeing certain classes or nationalities - whether Bahamian or foreign - as human beings.
We have seen more than enough instances of the State showing an eerie willingness to detain someone and throw away the keys without any regard to matters being heard in a court within a reasonable time or at all. The only time the State seems to care is when it's brought to the attention of the international media and we, as a country, become subject to great embarrassment because of the foolish decisions and thoughtlessness of the few.
We have seen that with the treatment and imprisonment of Japanese national Atain Takitota.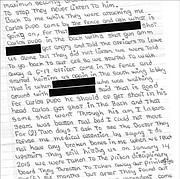 Takitota was lost in the system and became a forgotten ward of the Bahamas Department of Corrections. We have most recently seen a similar scenario with Jamaican national Matthew Sewell, who was released after a habeas corpus application. I am a member of the legal team that secured Mr Sewell's release.
This week, I received an email from Nicole Flem, the sister-in-law of Lazaro Seara Marin, who is currently detained – without charge and/or trial – at the Bahamas Department of Corrections in Fox Hill. The email contained a handwritten letter from Lazaro. I read the letter with a heavy heart.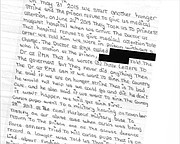 In April 2013, Lazaro and his friend, Carlos Pupo Mendoza, were arrested in Abaco. Originally from Cuba, they claimed to have been fishermen and to have licences to fish. They have no family here.
From what I have gleaned, following their appearance before a Magistrate in Abaco, the men were ordered to pay a fine of $300 and ordered to return to the United States. The men purportedly paid their own airfare to New Providence and were detained at the Detention Centre.
I am further advised that their families paid for their tickets for them to be returned to the United States but they were not allowed to leave by the Bahamas' Department of Immigration. At this juncture, I understand that one or both of the men have lost their residency status in the US as a result of their lengthy detention, without charge, in The Bahamas.

According to my sources, both men have claimed to have been abused and beaten at the Carmichael Road Detention Centre. In fact, during the proceedings to determine whether Cuban detainees were abused while held at the centre, Carlos Pupo testified before the panel presiding over the trial of the five Royal Bahamas Defence Force marines charged in 2013 following an investigation into claims of abuse at the Carmichael Road facility. Pupo testified against the Defence Force officers.
Both men have, in the past, given their families accounts of inhumane conditions at the Bahamas Department of Corrections and at the Detention Centre. They told of gas bombs being thrown into the Detention Centre, of being accidentally shot by a prison officer and so on.
I was sent a letter from Lazaro two days ago. I am quoting from the letter exactly as it is written and will place full stops and commas in brackets where necessary, so that readers can better understand it. For legal reasons, I have also deleted the names of the prison and Defence Force officers named. Other than that, the letter will remain as written by Lazaro Seara Marin.
The letter is entitled: "Freedom plea for Carlos Pupa Mendoza and Lazaro Seara Marin."
Lazaro Seara Marin wrote: "To whom it may concern in the world community. This is an outreach, a cry from the wilderness. All the world leader (s) starting from presidents in all countries to the House of Commons in the United Kingdom (,) this is our cry for freedom (.) Major injustices were done to us.
"We were put in the Bahamas Detention Centre on March 19th 2013 (.) From the Detention Centre the immigration brought us to the main state prison after we were physically abused by Royal Bahamas Defence Force officers, they (RBDF) officers are in charge of security at the Detention Centre. We were put in prison without no charge (.) Therefore it constituted arbitrary detention, even since we got into unnecessary problems," he wrote.
He went on: "We were in a section called Remand Centre (.) While there (,) I (,) Lazaro Seara (,) of problems was confronted and attack by gang members in the prison (,) as a result of this attack I got stab in the hand (.) I was deflecting blow meant for my face and I got stab in the shoulder (.) Date of this incident April 1st 2014 (.)"
"One April 9th 2014 (,) a few prisoners including myself Lazara Seara got tested for tuberculosis (T.B.) or (T.B.) germ in the prison (.) They tag me as positive (.) They took me to their main hospital called Princess Margaret Hospital for a x-ray (.) After returning from the hospital (,) they put me on medication for (6) six months (.) I never in my life had T.B. or it's germ (.) I caught this in prison."
"May 11th 2014 we started our hunger strike in prison, (20) twenty days into the hunger strike they took us to the Princess Margaret Hospital and brought us back to prison, in medical sick bay (.) While we were there chief (prison officer) beat me and Carlos Pupo with a (word unknown) electrical pipe (.) Then he took us to the back of maximum security and separated us by putting one of us in A-Block #18 (.)
"When chief (prison officer) did this he did so without no regard for our wellbeing (.) He never sent for our blankets, sheets (,) clothes (,) drinking water, soaps, toothbrush (,) tooth paste (.) Nothing at all," Marin charged.
"On December 19th 2014 me and Carlos Pupo and other prisoners were in the shower (.) Officers then brought in a fellow that goes by the nickname "Nassau." They found illegal narcotics in his possession (.) Even after they retrieve it they went on to physically abusing him. It is to horrible to even describe (.) Everyone was told to get out (.) We did (.) While outside they brough Nassau to a small office (,), broke his (arm) and then took a broom stick and shove it up his rectum all because they thought he still had drugs in his rectum. After they finish with him they come after me (,) Lazaro Seara, call me to the fence and a fat gay officer by the name of (name removed) started to punch and slap me around him and his colleagues officer (name withheld), officer (name withheld) and many more (.) While they were abusing the prisoner known as "Nassau" (,) ASP (name withheld) (,) who is the (position withheld) ordered that the beating is to stop but they never listen to him," he asserted.
Lazaro went on to say: "Back to me (.) While they were attacking me Carlos Pupo come by the fence and ask what is going on, for the Sergeant (name withheld) shot Carlos Pupo in the back with a shot gun and prison officer (name withheld) got angry and told the officers to leave us alone (,) but they did not listen (.) We were told to go back to our cell so we started to walk away (.) A G-17 officer come in the fence and started hitting us again in the south wing lobby (.) That is when chief (name withheld) (,) who was walking around with ASP (name withheld) (,) said that is good for Carlos Pupo (,) he should of get shoot in his head (.)
"Carlos got shot in the back and that same shot went through his arm (.) I (,) Lazaro Seara (,) was beaten real bad (.) I could not move for (2) two days (.) I ask to see the doctor (.) The refuse me medical attention by saying I do not have any broken bones in me (.) When we reach upstairs they still hitting us (.) On January 14th, 2015 we were taken to the prison disciplinary board (.) They threaten to take away our privileges for (6) six months (,) but after they found out we were innocent (,) the superintendent come and apologize for what happen to us.
"On May 31st 2015 we start another hunger strike and the prison refuse to give us medical attention. On June 24th 2015 they took us to Princess Margaret Hospital (.) When we arrive (,) the doctor at that hospital refuse to give medical attention to us after we told him we were in prison without a charge. The doctor at PMH called Dr Johnson who is station at the prison, Dr Johnson told the doctor at PMH that he wrote (3) three letters to the government but they never did anything (.) Then the Dr at PMH ask if we want to sink the country (.) He said if we are on hunger strike that is too bad (,) he would not help us (,) we could go and die (,) he don't care. And also he said if we want to sink the country it won't happen (,) we will get sink first.
"Carlos Pupo went to a military hearing on November 28th 2013 at the Coral Harbour military base to testify on our abuse case (.) When Carlos was being return to the prison (,) one of the Defence Force officers tried to kill Carlos Pupo (.) That is on record (.) A lawyer was told us that (government official name withheld) lied about finding country to take us. (Government official name withheld) never put no papers or made no diplomatic contacts for remedy of this situation. Are the Bahamas government waiting on us to die before letting us out.
"I (,) Lazaro Seara Marin and Carlos Pupo Mendoza (,) are begging United Nations, Human Rights International (,) the Queen of England and the International Court in Mague (he means The Hague) Europe (,) please help for the love of "God (.)" Please help us (.) Even an international lawyer (,) if you help us please" Mr Marin concluded.
The letter was signed by both Carlos and Lazaro.
This is unfortunate and this letter highlights the inhumane conditions at our detention facilities and the abuses of power occurring therein.
While I take the letter at face value - the two men are still incarcerated - it doesn't mean that everything in it is true and I have not had the opportunity to put the issues to the authorities. However, Carlos Pupo has been the subject of protests against The Bahamas and statements by a Florida-based Cuban exile group, the Democracy Movement, and is at the centre of proceedings into abuse and beatings at the Detention Centre in 2013.
Clearly, there are glaring constitutional breaches in this matter. One notes that Article 18 of our Constitution protects Bahamians and those within these shores from arbitrary arrest or detention and article 16 speaks to the protection from inhumane treatment. We cannot sit silently when the fundamental rights of any citizen or visitor to this country is violated or allegedly violated, in any way, by anyone.
We must acknowledge the components of a civil society and the rule of law has to be respected. We must adhere to the rule of law across the board. It truly has a tremendous upside. The great Greek philosopher Aristotle has nobly left us with this golden nugget, that is, that "the rule of law ... is preferable to that of any individual."
Human rights, the rights of children and women, environmental rights and the rights of animals do not get overt attention here. We seem to generally adopt an outlook that we could care less.
In this country, we have heard of many instances where people are violated without recourse. We have seen abuse become the standard operating procedure in certain quarters and, quite honestly, it unfortunately had also led to the degree of vigilantism that we are seeing being manifested in The Bahamas.
We must begin to make the connection between the choice to treat people that way and the way they behave.
ajbahama@hotmail.com