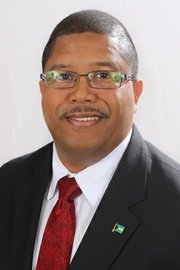 By NICO SCAVELLA
Tribune Staff Reporter
nscavella@tribunemedia.net
FNM Deputy Leader Peter Turnquest yesterday criticised Royal Bank of Canada Bahamas for its "ridiculous" new $10 charge for non-RBC account holders, and called on the government to ensure that the Toronto-based bank was not seeking to "take advantage" of Bahamians.
Mr Turnquest, the Free National Movement's shadow minister for finance, said it was "highly unfair" and "out of order" for RBC to impose the new fee on Bahamians "who can't afford these additional costs."
He said rather than encourage people to open bank accounts and promote better saving habits, all RBC's new fee does is serve "as a tremendous disincentive for people to utilise proper bank accounts."
"Honestly, it's getting to the point where it's better to put your money under the darn rug," Mr Turnquest said when contacted for comment.
Recently the bank announced that on November 2, non-RBC account holders would be charged $10 for every transaction they complete at the bank. At the bottom of a flier announcing the change is the company's "It's all about you" slogan.
However, the move drew ire from residents, with some suggesting that they would now deposit their cheques at their bank of preference and just wait for the cheque to clear instead of paying RBC's $10 fee.
"It's ridiculous, absolutely ridiculous," Mr Turnquest told The Tribune yesterday. "And unless somebody can explain to us what is the administrative cost in having that happen that is different than the past, it is ridiculous and I believe that somehow either the Central Bank or the government has to get involved in the situation because these banks are taking advantage of people at this stage.
"I understand that their cost of doing business may be going up, I understand all of the technicalities in that business nowadays, but that kind of fee is just ridiculous in terms of the cost it's putting on Bahamian people. You've got people who are only making a couple of dollars – they might go to the bank with a cheque for $50 and $10 of it they have to give to the bank. That's ridiculous. How are people supposed to survive like that?"
He added: "I said before that we need to have a look at all of these banks and the way that they operate to ensure that the operations are consistent with international best practices, that we're not just being taken advantage of as a country, as a people because of our location, because of our dependence on these banks to facilitate our financial transactions."
Mr Turnquest added that as an RBC account holder, he has never had the "unfortunate instance" to have to pay the fee; however, he said an employee of his has experienced the very same problem when trying to cash cheques at RBC.
"What I've had to do is increase the wage that I pay my employee by $10 to cover it, because it's unfair for her to bear that cost," Mr Turnquest said. "So I've had to bear the cost as an employer. And again, what are we trying to accomplish here? I'm a customer, both a personal and a commercial customer, and you're charging me just to facilitate my employee. This is just nonsense.
"The ideal way to assist our citizens is to encourage them to go to the bank and to operate bank accounts, teach them how to operate a bank account. As these financial institutions - and it's just not RBC, all the banks are doing this nowadays - as they increase the fees for doing that, it serves as a tremendous disincentive for people to utilise proper bank accounts."
Mr Turnquest said he predicted earlier that banks would seek to recover costs after the government increased taxes on the sector.
He added: "I indicated then that the banks are going to attempt to pass this cost on to its customers, ordinary Bahamians. And that if we're going to increase the taxes, we must at the same time put in some regulation to ensure that it is not passed on."
Various disgruntled residents also took to social media to vent their frustrations at the new charge.
"It's stupid, if someone gives you a RBC cheque you have to pay $10 to cash it at any of RBC's branches . . . these people going to hell in a hand basket," one user said.
"Well I will just deposit RBC cheques on my other bank account and wait two days for it to be cleared…they got to be joking," another person said.
Attempts to reach an RBC spokesperson for comment were unsuccessful up to press time.