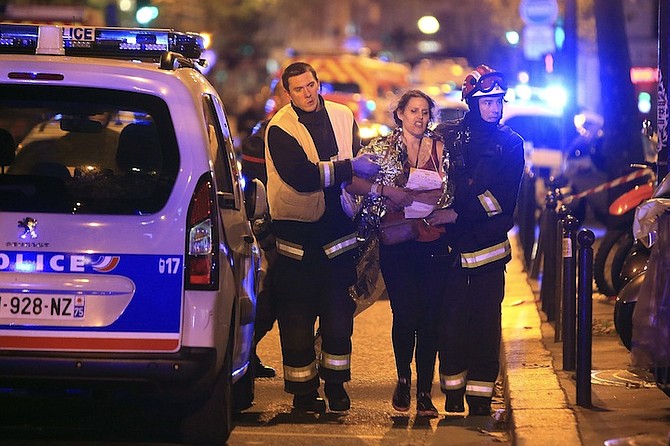 THE government of the Bahamas has expressed "its deep regrets over the loss of life from the horrific shootings in Paris." "We condemn these barbaric acts in the strongest terms," said a statement released by the government on the weekend. "We extend our condolences to the families of the victims.
"Instructions were given to our honorary consul in Kingston to convey these sentiments tonight to the French ambassador to the Bahamas who lives there. A diplomatic note will follow.

"The Bahamas stands ready to work with our Caricom allies and the international community to combat this problem," the statement added.
Prime Minister Gaston Brown of Antigua and Barbuda also extended his people's "profound sympathy for the loss of life and injuries perpetrated by the despicable act of terrorism in Paris on Friday, November 13, for which ISIS claims to be responsible.
"Terrorism," he said, "is a scourge upon our common humanity. The people of all countries have a right to live in freedom within the laws that govern our international system. In our 21st Century world, which has become inextricably interlinked, terrorism in all its forms, particularly directed at innocent civilians, must be halted by global action.
"Our prayers and good wishes are with you and the people of France."
A series of unprecedented attacks on popular night spots Friday night killed more than 100 people in Paris, the Associated Press reported. Officials have said this was the deadliest violence to strike France since World War II.
French President François Hollande condemned it as a terrorist attack and pledged that France would stand firm against its foes.
When the attacks were over, eight attackers were dead — seven of them in suicide explosions, one killed by security forces in the music venue, Paris prosecutor's spokeswoman Agnes Thibault-Lecuivre told The Associated Press.
The death toll was at least 120 people at six sites, including the national stadium and a circle of popular nightspots, Ms Thibault-Lecuivre said.