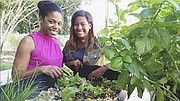 By Felicity Ingraham
When a woman announces to her family that she is going into agriculture she often gets a less exuberant reception than if she had announced a career like teaching or nursing. She may hear, "You're too pretty to be a farmer!" She may be chastised for "wasting her talent".

Jeri Kelly was no exception. Her family may have expected her to put her brains and wit into a career that would be more comfortable and include air-conditioned offices and suits, but she found herself blazing her own new path.
She initially thought her career would be in marine biology, but she always considered business to be her first love. As time went on, she developed a love for food and nutrition as well. All of those inclinations and talents led her into her current chosen career path – agribusiness.

This talented Bahamian woman in her early twenties has attained a Master of Science in Marketing and Agribusiness and is currently a lecturer at the Bahamas Agriculture and Marine Science Institute (BAMSI). She has combined all of her passions into a "most rewarding" sector that allows her to have the best of both worlds – the field and the office.
BAMSI currently boasts of an almost 50/50 rate of male and female teachers and students, showing that diversity in every aspect is achievable in Bahamian agriculture.

For Ms Kelly, marrying her love of food and business naturally brought her to the field of agriculture.

"I believe in growing what we eat, and this is just an ideal opportunity to assist the country in understanding that we need to grow our own food," she said.

She encourages her students to understand that there are so many professions associated with agriculture, so there's no reason to limit their perspectives.

"We want to expose them to different things so that they can become innovators," said Ms Kelly.

"We want them to think critically and consider how they can add value to their raw product by coming up with new and innovative products. They have to understand that cassava is not just for soup; consider cassava chips or flour, or make a mixture from that flour that could be the next Sarah Lee of the Bahamas."
Oftentimes, she said, people consider farming to be the greatest part of what agriculture is all about, and that deters many people from exploring this viable career path.

Ms Kelly contends that the actual farming only accounts for about 15 per cent of the food industry. Packaging, logistics, marketing and shipping are just some of the other components to consider. If a shipment of produce has to go from a northern island to Crooked Island, for example, then logistics such as refrigeration and packaging are a big part of the consideration. For this reason, she said, she continues to push her students to think outside of the box and consider how they could revolutionise the industry for the Bahamas.

Prior to joining the BAMSI family, Ms Kelly worked with the all-female farming team at the organic farm called Field to Fork. There, she got her feet wet for a career that is now in full swing.
Today, she is helping to make the dreams of her students come to life; many of them are already planning the operations that will begin upon graduation. The first graduating class of BAMSI is about to enter their final semester.

Ms Kelly said BAMSI's whole purpose is to encourage and support Bahamian farmers and to diversify the agriculture industry.
She is also preparing her students for the technological aspects of the industry that they will undoubtedly come into contact with. Farmers are using apps to create farming budgets, purchase products, and more.

"We want to educate them (BAMSI students) because they will be our farmers of the future – agri-technology, agro-processing and agro-innovators," she said.
Ms Kelly said she wants to advise girls in primary and high schools to explore the many career opportunities in agriculture and the food industry.
"Agriculture is not limited to farming, but spans further into all areas such as marketing, law, finance, processing, quality assurance, chemistry and more. The agricultural industry is multi-faceted and there is a niche for everyone," she said.