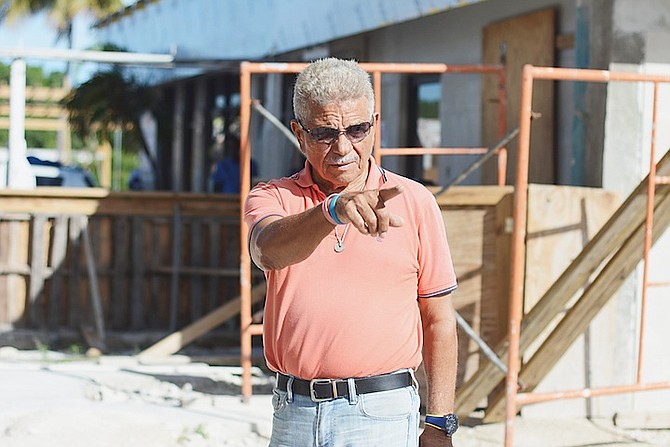 By NICO SCAVELLA
Tribune Staff Reporter
nscavella@tribunemedia.net
THE owner and operator of a Carmichael Road gas station yesterday refuted concerns from residents that the expansion of his gas station would result in the contamination of the neighbouring community's water table.

Peter Roker, owner of the Bargain City Plaza which houses the Esso gas station commonly known as "Roker's", said the expansion of the gas station would feature "state of the art equipment that would further ensure the integrity of our environment."
He said the renovations at the Bargain City Plaza would not be something that would hurt the environment, but rather something from which the entire Carmichael Road community would benefit.
Mr Roker also said, despite previous statements from Environment Minister Kenred Dorsett, he had not received a "stop order" from the Ministry of Works and Urban Development to discontinue construction at the station because the Department of Environmental Health Services (DEHS) was not notified of his plans.
Last week, Edna Barrow, a concerned resident of the neighbouring Ferguson subdivision raised concerns over Mr Roker's plans for expansion. She told ZNS News that as Mr Roker's expansion site lies directly next to her house, there is a high probability that her community's water table would be contaminated.

Other residents also claimed that they were already experiencing fumes from the existing gas station, which they suggested would likely get worse upon the completion of construction.
Yesterday however, Mr Roker said upon completion, his new gas station will feature equipment that "not only our immediate neighbours, but the whole environment will benefit from."
"And so therefore the equipment that I'm putting in, like the tanks are state-of-the-art tanks, they're two tanks in one," he said. "They have a guaranteed life from the manufacturer of 30-35 years. There is what they call a Veeder-Root system that detects anything prior to it becoming anything at a dangerous level. We are putting in something that will assure and guarantee the prevention of any and such problems."
"So I would like to be actually sure that I am able to allay any fears that anyone would have, that our renovation at Bargain City is going to hurt the environment or hurt our immediate neighbour."
Mr Dorsett, who is the area's MP, told reporters recently that normally when anyone makes an application for an expansion of a gas facility, the plans for said expansion are provided to DEHS, which falls under his remit, for it to make provide its recommendations.
However, he said that after a discussion with senior officials at the Ministry of Works as well as Minister of Works Philip "Brave" Davis, a "stop order" was issued "to halt all construction activities, because clearly the protocols had not been followed."
When The Tribune arrived at the Bargain City Plaza yesterday afternoon, the new station's canopy had already been erected, and a large hole could be seen in the ground on the construction site, which Mr Roker said would be used to house the two tanks.
"I have not myself received a stop order," Mr Roker said when asked yesterday. "I can say that with the utmost clarity. As far as someone bypassing something, I think there's a little misunderstanding here. We haven't even gotten to the stage where anyone can bypass anything. The canopy that you noticed is already up and certainly anything regarding the canopy was duly approved. There's no question about that at all."
"Our renovation is long overdue," Mr Roker added. "I can assure anyone, and particularly my neighbours and the wider Carmichael Road community that our renovations are going to be not only a better facilitation of our customers, but also state of the art equipment that would further ensure the integrity of our environment."