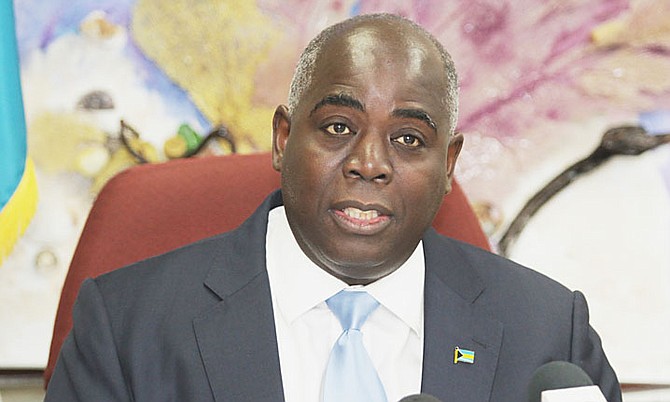 DEPUTY Prime Minister and Minister of Works Philip "Brave" Davis donated 12 laptops to the students of the San Salvador Primary School and San Salvador Central High School during a recent visit to the island.
Mr Davis was accompanying technical experts from the Ministry of Works and Urban Development, the Water and Sewerage Corporation and the National Recovery and Reconstruction Unit (NRRU) who were conducting a final assessment prior to the start of the government's recovery and reconstruction project.
"We are very delighted that the deputy prime minister has responded so kindly to our needs, particularly at this time," Arlington Lightfoot, principal of the San Salvador Central High School, said.
"This gift is very significant as it does a couple of things. Firstly, it allows our students to make up some of the time they lost during the passage of Hurricane Joaquin – particularly as it relates to their computer studies and any upcoming examinations they may have to undertake and secondly, it allows them to get their minds off the events surrounding Hurricane Joaquin.
"This was a very, very challenging storm for many of us here on San Salvador and particularly our young students. Being able to surf the internet; to use the internet to do homework and other projects, and to just be able to see what is going on in other parts of the world, hopefully will help to take their minds off the hurricane for awhile and restore them to some sense of normalcy."
Hurricane Joaquin inflicted damage on both schools, destroying desktops and other computer equipment.
Mr Davis said the opportunity to assist the students in returning to some sense of normalcy after the storm was one he could not bypass.
"It's just an opportunity to try and help and jumpstart some functions, along with restoring and bringing back life to these students in the aftermath of Hurricane Joaquin," Mr Davis said.
Mr Davis also visited with grade 10 students of the San Salvador Central High School.
"I understand that during the passage of Joaquin, the computer room was affected to the extent where all of the desktops were rendered useless. As a result Mr Lightfoot, in discussing some of the urgent requirements, and quite apart from getting the physical environments back to some sort of normalcy, indicated that the computer room was impacted severely and asked if I could assist with supplying some computers, which I could not bypass. Hopefully these donations will help to get your computer classes back up and running."
"We have stopped by to accelerate those things that have been damaged and to re-establish some sense of normalcy. We know it was a traumatic experience for you and that some of your homes have been damaged and/or destroyed, but I want you to persevere and know that everything will be all right," he said.
Mr Davis also announced during the visit that the government of the Bahamas will construct a new state-of-the-art primary school and secondary school in North Victoria Hill.
He explained that construction of the primary school would be the priority "because it is a more urgent structure," and that plans for the high school "are significant."
Janet Ferguson, a grade 10 student of San Salvador Central High School, said the storm was "a really terrifying experience."
"Coming back to school was difficult. Just to know everything that happened during the storm. And now coming back to school to start off fresh, we have to catch up on a lot of work that we missed. We have to work extra hard just to try and catch up with our work and grades, but we are getting back in the groove now."
Miss Ferguson said her home, in addition to those of other family members, received damage.
"Two of my rooms were damaged and a majority of the rooms were leaking after the storm passed. My entire family had to come together to reside in one house now because their homes were damaged and so it is really jam-packed, but we are family.
"It was scary. The scariest part was when we thought it was finished and we heard the next half coming and we were not prepared for that second part," Miss Ferguson added.