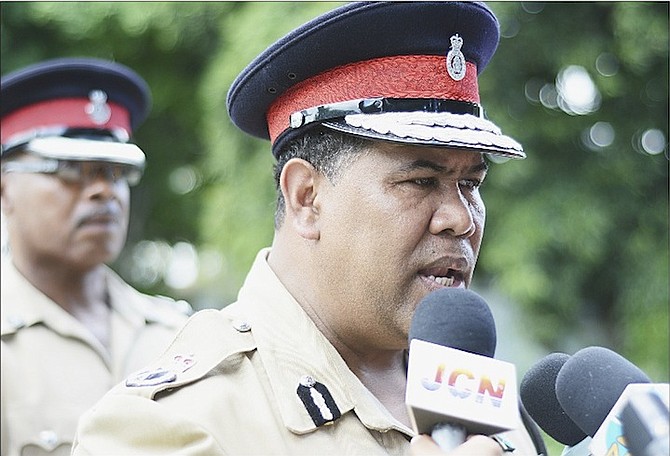 By RASHAD ROLLE
Tribune Staff Reporter
rrolle@tribunemedia.net
A FRUSTRATED Ellison Greenslade yesterday said he was "not surprised" by the nation's rising murder count, telling reporters that that he predicted months ago that the country would continue to have problems if certain changes were not made.
While he said he is "disturbed" and "concerned" over the rate of homicides, the police commissioner defended the effectiveness of police officers yesterday. However, he stressed the need for legislative reform to aid officers in the fight against violent crime.
His comments came at a special press conference at police headquarters, shortly after a man was shot dead in the Nassau Village constituency. The killing pushed the country's homicide count to 134 for the year.
Following that homicide, Mr Greenslade deployed throughout New Providence a "selective enforcement team made up of the finest officers" in the force, "officers that have received the best training in heavy arms".
Many Bahamians took to social media throughout the day to note the heavy presence of armed officers in some communities, with some describing certain areas as being on "lockdown".
"I'm not surprised," Mr Greenslade said. "Despite our best intentions, I foreshadowed this many months ago when I gave you an interview and I said if we do not change our trajectory – not the police department – but if we didn't change generally as a country, look at some policy issues, some legislative reforms issues and some other initiatives, we were going to continue to have problems."
The commissioner of police suggested that the reforms could be on the way, describing a lengthy recent meeting with Prime Minister Perry Christie and National Security Minister Bernard Nottage as very encouraging.
Mr Greenslade added: "Whatever weapons are on the streets, we have outmatched them. We are going to stay out there as long as it takes. Any well meaning mother, any well meaning citizen should stay out of the way of law enforcement and allow us to do our work fairly, firmly and professionally. I'm asking the public to help us. Stop cloaking men with guns, women with guns, men with drugs, women with drugs."
Asked about suspected increased gang activity recently, Mr Greenslade said: "The only gangs that I know about in the Bahamas that deserve any recognition are the Royal Bahamas Police Force, the Royal Bahamas Defence Force, Her Majesty's Prisons, the Customs services, the Immigration Department, the Road Traffic Department.
"Those are the law enforcement agencies, with the addition of a few more, that are allowed by the law to be in groups to do anything in a concerted way. The law doesn't allow anyone else of any other description to do anything that looks like law enforcement, to possess guns, to traffic dope. Do not ask Ellison Greenslade to legitimise criminality. I'm not going to do it."
Amid concern about violent crime, Mr Greenslade has consistently cited the ease at which "prolific offenders" receive bail as a key contributor to the problem.
He did so again yesterday, saying: "When we arrest persons in possession of an AK47 type weapon, an illegal firearm with ammunitions and clips…we have to ensure as a people, all of us, that we say, the line has been drawn in the sand and if law enforcement has done due diligence, we must now ensure that those people cannot reoffend and kill people."
"There are some things that need to be fixed, other than arresting people, other than taking bad people off the streets on a given day. I cannot make a bad person who has committed murder, is intent on doing it again; I cannot make him or her change. What I can do is what I have done again this morning, not for the first time, arrest them and take them before the halls of justice and I'm asking that they are not allowed to return to the streets to continue to kill people and to continue to possess guns and travel with drugs."
Mr Greenslade also complained about other social realities that are beyond the control of officers - issues only the country's legislators can do something about.
"You tell me why we would give someone a permit to open a club in front of a church," he said. "You tell me why we in the Bahamas, not the police, would give a permit to someone to run a club until 4am in the morning. You tell me why a person would rent a private home in a community and allow all kinds of criminals to congregate, block the road and disturb people in their sleep at night with perceived immunity? Fundamentally flawed. Arresting those people doesn't solve the problems. Post arrest, something else must happen. We need to look again at some policies Bahamas-wide."
Mr Greenslade added that the police force is just one weapon in the fight against crime.
"I don't want to make this a police-centric conversation," he said.
"I can point you to places in the United States of America, and other countries where crime rates have fallen and if you were to speak to those people they would tell you a combination of things have happened. While law enforcement is busy arresting those same prolific offenders, there are legislative reforms so that the person we spoke about that is killing people is not able to kill again. I read an article last night which indicated to me a man was arrested in Texas for committing murder and his bail was set at $2.5 million. He's not going to be able any time soon to go back and kill anybody else and he will be treated very fairly by the system in that country but the public will know that they will not have to worry about that man killing anybody else."