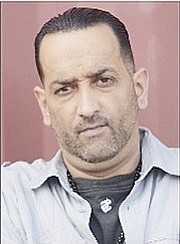 By NAUGHTY
naughty@tribunemedia.net
OKAY, last week was bad for me (6-8) but others were worse! Including Sannie, previously 'untouchable', who went an unusually 'unlucky' 5-9.
So it seems like it's positioning time, and I've managed to do some already, cutting into the lead Sannie and AP have on the field. I've got my fishing gear in time to reel them in some more.
As far as my broadcast colleagues from 'The Press Box' - Dorsett and Wells - go, one is back from the dead after I picked his Dolphins to win, the other better have an appetite because he's got some Dunkin Donuts to eat!
Here's who I like this week. It's short and sweet as I'm packing for the Cowboys-Dolphins game in Miami as I write this.
Titans v Jags
Jags at home despite RB T J Yeldon being banged up and a game-time decision. QB Blake Bortles is maturing and his receivers Alan Robinson and Alan Hurns are doing the same right along with him.
Jags at home in a tough division game.
Jags 24 Titans 20
Rams v Ravens
So there's a new QB in St Louis - Case Keenum - to go along with 'beast' rookie RB Todd Gurley. Despite the Rams' woes in 1pm East Coast games, I like them this week on the road against the Ravens.
Rams 27 Ravens 24
Redskins v Panthers
The Panthers win at home this week over the Redskins, helping my Cowboys stay alive in the abysmal NFC East, before losing to the 'Boys' in Dallas on Thanksgiving.
Panthers 24 Redskins 20
Broncos v Bears
No starting QB Peyton Manning for the Broncos, nor a solid defence the last couple of weeks. Therefore no 'win' either.
Bears 24 Broncos 20
Cowboys v Dolphins
I will be at the game God willing, and as a result my presence at the game, my Cowboys seven-game losing streak will be broken. Romo is back at QB and so are the wins.
Cowboys 31 Dolphins 20
Raiders v Lions
Coin flip ... Raiders on the road.
Raiders 31 Lions 23
Jets v Texans
Which Jets or Texans team shows up?
I will go with the better defence in this one.
Jets 26 Texans 17
Colts v Falcons
The Colts have 'No Luck' whatsoever in this one! Falcons at home.
Falcons 31 Colts 20
Bucs v Eagles
Coin flip again in this one. TB, WR Mike Evans comes up big in this one!
Bucs 23 Eagles 20
Chiefs v Chargers
Both teams coming off a bye so something has to give.
Chiefs have been the better squad of late so let's roll with them on the road.
Chiefs 31 Chargers 27
Packers v Vikings
The play of both these squads leaves me speechless! So I will just say four straight losses for the Packers, Vikings big at home.
Vikings 23 Packers 20
49ers v Seahawks
No long talks here. Seahawks at home.
Seahawks 27 49ers 23
Bengals v Cards
Wow, two straight losses for the Bengals. Another minister moving, the Cards play big in the desert.
Cardinals 24 Bengals 20
Bills v Patriots
That same funky feeling I had last week when I called the Dolphins to win on the road over the Eagles, has returned.
Tyrod Taylor is for real!
Bills 27 Patriots 24
• Naughty presents 'Mischief and Mayhem in da AM' from 6am to 10am, Monday to Friday and 'The Press Box' sports talk show on Sunday from 10am to 1pm, on KISS FM 96.1. Comments and questions to naughty@tribunemedia.net