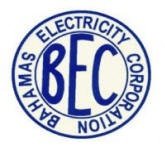 By SANCHESKA BROWN
Tribune Staff Reporter
sbrown@tribunemedia.net
RESIDENTS In eastern New Providence should brace themselves for "periodic" supply interruptions over the next few weeks as the Bahamnas Electricity Corporation (BEC) carries out planned improvement exercises in the area.
The work will be carried out on Mondays, Wednesdays, Fridays and some Saturdays as necessary between 9am to 4pm, beginning this week until December 16, a statement from BEC read on Friday.
"BEC is carrying out an exercise to reinforce its Overhead 33kv transmission circuit between its Winton 33kv substation and St Michael's Road. The purpose of this exercise is to reinforce and strengthen the infrastructure bringing supply to the eastern portion of the island. Once the project is completed it is expected to reduce the possibility of supply interruption due to overloading in the area," the statement said.
"Over the next few weeks it is possible for consumers in the area to experience periodic interruptions of supply for several hours. In an effort to minimise the periods of these interruptions, work will be carried out on Mondays, Wednesdays, Fridays and some Saturdays as necessary between 9am to 4pm. It is intended for the project to be completed on or before December 16, 2015. We understand that the exercise may result in some inconvenience to our customers during this time; however, once complete we expect improved service into eastern New Providence."
Last week, BEC blamed a faulty circuit breaker for a power outage that left eastern New Providence without electricity for hours.
In a statement, BEC said a circuit breaker failed at one of the 33,000-volt substations at the Blue Hills Power Station just before 6am and a failure of a 33,000-volt cable between the Blue Hills and Solider Road substations shortly thereafter caused the outages.
BEC has been grappling with issues over the past few months, which have led to multiple power outages.
The government began negotiations with American company PowerSecure International over a five-year BEC management contract in May, and signed a transition services agreement in late July. At that time, Deputy Prime Minister Philip "Brave" Davis said the new plan would ensure fewer blackouts and power outages for the country.
A new BEC board was appointed at the beginning of the month.