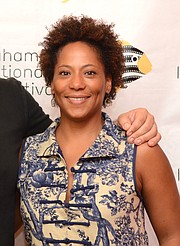 By NICO SCAVELLA
Tribune Staff Reporter
nscavella@tribunemedia.net
THIS year's 12th annual Bahamas International Film Festival (BIFF) will connect talented emerging writers with some of the biggest names in the international film industry when the event kicks off next month. 
Set to start in Harbour Island before transitioning to Governor's Harbour, Eleuthera, and climaxing in New Providence, this year's festival will see appearances from the likes of Vince Gerardis, co-creator of the popular American drama series 'Game of Thrones', as well as Sean Covel, a producer of the art-comedy film 'Napoleon Dynamite'.
Others include Bentley Evans, co-creator of 'The Jamie Foxx Show', as well as 'Southland' (TNT) actor Dorian Missick, who is reportedly of Bahamian descent. 
The festival will be held from December 1 to 4 in Harbour Island, December 5 to 8 in Governor's Harbour, Eleuthera, and December 9 to 12 in New Providence. The BIFF has established itself as an international film festival in the Caribbean, discovering and promoting independent voices and talent from the Bahamas and showcasing diverse international films. 
"What we want to do is encourage you to invite your family, your friends," said Leslie Vanderpool, BIFF Founder and Executive Director, on Friday. "We're bringing Hollywood to the Bahamas, and you must tell your friends that once you come to festival just for one film, you'll realise how special each film is, and then you'll want to come back and see more. You'll meet the filmmakers. You'll have the opportunity to ask questions with them."
According to officials, this year's festival will showcase more than 130 films from 40 different countries, including nine international premieres, 28 Caribbean premieres and all-Bahamian premieres. To date, she said that more than 500 films were submitted this year, which are expected to "shape the festival and its overall global vision". 
It will also host a Screenwriters Residency Programme, which entails four days of screenplay development, mentorship and networking with some of Hollywood's top professionals. That takes place from December 1-4 on Harbour Island.
Other features include filmmaker's happy hours, outdoor and beach screenings, music and film masterclasses, film-making panel discussions and festival parties. 
As to the reasoning behind starting the event in Harbour Island as opposed to New Providence this year, Ms Vanderpool said that it allows that the "festival becomes the event, so we're not overshadowed by other events and other things".
"Over the years the film festival has evolved, had to be flexible, has regressed, due to the economic challenges and a few of the activities and programmes that we try to implement," she added. "We always try to reinvent ourselves, but we want to make sure that the BIFF is a place for filmmakers to showcase their film. In addition to that make sure that The Bahamas is a showcase for the film industry, to make sure the sponsors are showcased to the world and festival guests and really to bring Hollywood to The Bahamas."
However, interested persons need not wait until December to live the BIFF experience; officials on Friday announced the launch of a BIFF Mobile app, the result of a partnership between BIFF and Corner Bank (Overseas) Ltd, which provides "early-bird" access to the festival's official selection, daily exclusive videos and event features during the festival. 
The app also extends the festival's content offering beyond its annual December dates, with year-long events and film features planned. 
"We are excited to launch our first app for (BIFF), knowing how connected film lovers are to their smartphones it is a natural extension for us to bring our films and filmmakers into a wider audience," Ms Vanderpool said.
"We are pleased that Corner Bank (Overseas) Ltd has the foresight to support such a venture and in doing so expand its brand awareness to a more diverse market." 
Michele Clivio, Manager of Corner Bank (Overseas) Ltd, expressed his delight in partnering with BIFF.
"CornerTrader, in conjunction with Corner Bank (Overseas) Ltd, is delighted to assist BIFF through its sponsorship of the Festival," he said. "It is because of Corner Bank's firm belief in the arts and its power to enrich lives and build better communities, that we applaud and fully support BIFF's desire to raise awareness by showcasing the expertise and talents of film makers locally and internationally."
BIFF was launched in 2004 as a non-profit organisation dedicated to create a cine-literate arts community, bridging cultures, gaining knowledge and attracting a targeted tourism sector through the film industry. The festival has showcased over 800 films from countries around the world. 
BIFF has attracted A-list celebrities such as Johnny Depp, Nicolas Cage, Laurence Fishburne, Danny Glover, Sir Sean Connery, Lenny Kravitz, Sydney Tamiia Poitier and many others.
For more information on BIFF, interested persons can visit www.bintfilmfest.com, or utilise the BIFF mobile app, which is available for free download on iTunes and Google Play stores.