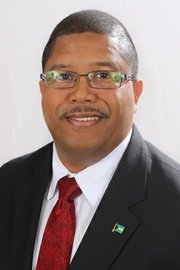 By SANCHESKA BROWN
Tribune Staff Reporter
sbrown@tribunemedia.net
FREE National Movement Deputy Leader Peter Turnquest yesterday applauded the Royal Bahamas Police Force's latest efforts to combat crime but said it is "unfortunate" that 134 people had to die for the government to finally get serious.
Mr Turnquest told The Tribune "it is about time" the police demonstrated to criminals that "we aren't playing with them".
For the past three days heavily-armed officers from the Selective Enforcement Team have locked down certain crime hotspots, arresting dozens of criminals.
While some critics have said the move is "too harsh and unwarranted," Mr Turnquest said "we aren't dealing with boys, so we have to do what we have to do".
"It is unfortunate that the government has taken this long to recognise how serious the crime problem is," Mr Turnquest said.
"It is unfortunate that it took them this long to come up with an action plan, especially when they promised to put any number of crime fighting measures in place to fix the problem. I am not sure if the strategies failed or if they failed to implement them, but what they were doing was not working.
"My personal view with the current situation is we aren't dealing with schoolboys; this is a serious time that calls for serious action. We have to demonstrate to criminals that we are not playing with them. This latest show of force by the police is the appropriate course of action, it is warranted. We have to make these communities safe and we have to make persons feel safe and if that requires constant police presence, so be it."
On Monday, Prime Minister Perry Christie insisted that The Bahamas is "not a killing field" as he suggested that in a matter of weeks Bahamians will see the government's new and aggressive crime fighting strategies implemented.
Mr Christie said the country cannot and must not allow the continuation of the wanton display of disregard for human life.
He said as long as the country continues to be a tourist destination, there must be a heightened interest in security and new levels of commitment to meet the costs of security.
This comes as the country's murder count for 2015 stands at 134, the highest annual total in the history of the Bahamas.