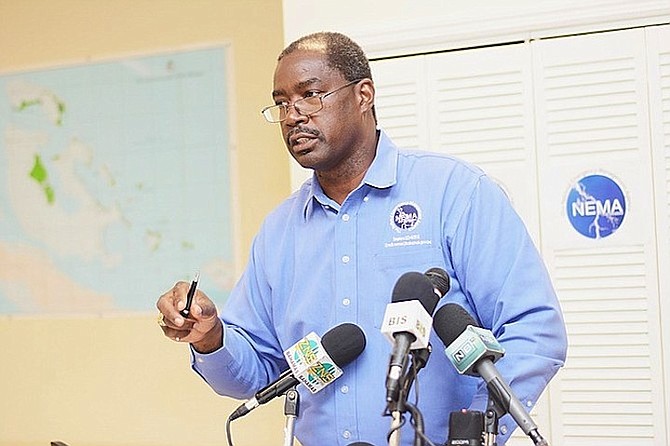 By DENISE MAYCOCK
Tribune Freeport Reporter
dmaycock@tribunemedia.net
STEPHEN Russell, director of the National Emergency Management Agency, said yesterday that all structures and homes on Acklins in the wake of Hurricane Joaquin have been assessed and quantities of building materials assigned for distribution to residents accordingly.

He reported that an assessment list has been compiled by the National Repair and Recovery Unit of every home that was affected or destroyed by the storm on the six central and south eastern islands last month.

Capt Russell said that no one has been denied building materials to repair their homes on Acklins. "We have a list of everyone whose homes were impacted or destroyed on the islands," he explained. "We went door-to-door and conducted an assessment of every house, and what was required to repair the roof or structure."
Mr Russell said the Defence Force is in charge of the distribution of building supplies and materials at NEMA's distribution centres. "They (distribute supplies) in accordance with the assessment list issued by the National Repair and Recovery Unit, and make sure that persons get the quantities of material they need based on the (initial) assessment conducted. So there is no way in the world persons would be denied materials if their homes have been assessed, and when certain quantities of material have been assigned to them," he said.

"That is the process we have in place in the six islands. (The Defence Force) is tasked solely to distribute the supplies in accordance with that list," he stressed.
Capt Russell noted that if there has been a shortfall in the quantity provided to repair (the damage) they would have to conduct a reassessment. He explained that Melanie Roach and a team of private engineers, along with engineers from the Ministry of Works and Housing, did the assessments and made sure correct quantities of materials were assigned based on assessed needs.
This week, an Acklins resident claimed that residents as far as Salina Point were turned away empty handed when they went to the distribution centre for relief building supplies. The resident also claimed that materials are not being fairly distributed as some people receive more than they need, while others receive insufficient quantities for repairs.
He also claimed that some elderly people, including a blind man in Lovely Bay, have not been given any building materials to repair their damaged homes. Capt Russell confirmed that the order of priority is senior citizens, disabled, single parents and then the general public.

"There is a reason we work in that order; we want to assist those who are most vulnerable first, but some people are impatient and do not want to wait their turn," he said.
Capt Russell also explained that they would not want to leave building materials outside the home of an elderly person unless there is a family member there who can look after their interests. He noted that teams assigned to carry out repairs to the homes of the elderly and blind would be given the materials for those particular repair projects.
According to Capt Russell, NEMA has put together several repair teams, each consisting of nine persons – a foreman, two semi-skilled persons and six labourers – as part of a repair and rebuilding unit. " We pay them a weekly salary; we have a pay scale for each category," he said.
However, contrary to claims made concerning the hiring of unqualified skills men, Capt Russell said that all hired foremen and skilled men are qualified.
"For the past three or four hurricanes we had employed these teams to work in their communities. They are all skilled persons that NEMA had hired to build the homes in the past in all those districts after Hurricane Irene in 2011, and another storm in 2012. We built 25 or more homes, and I can assure you everyone of those homes … stood the test of the category four storm, with the exception of minor shingle damage," he said.

"The persons who we (approved ) as foreman and skilled persons have proven their worth over the past two or three years with us. We also from time to time have engineers from the Ministry of Works make sure that these persons are rebuilding and repairing according to the proper standards."
When told about the unkind treatment by a Defence Force officer towards residents at the distribution centre, Capt Russell said he was not aware of it. "I don't know who has been deployed there, I am not aware of who is there, but that is a matter that would have to be addressed with the Defence Force," he said.