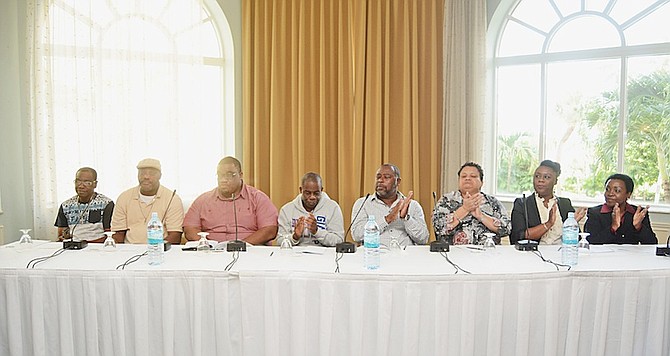 By NICO SCAVELLA
Tribune Staff Reporter
nscavella@tribunemedia.net
BAHAMIAN musicians yesterday announced plans to hold a "massive concert" next month to raise funds to assist in recovery efforts on Family Islands severely affected by Hurricane Joaquin.
Under the theme "United to Rebuild the South," iconic Bahamian artists such as Ancient Man, Geno D, Elon Moxey, as well as local gospel artists will take to the Thomas A Robinson Stadium on Friday, December 11, to conduct a benefit concert to assist hurricane victims residing in the southern Family Islands.
According to officials, the event will be of no financial benefit to any of the artists involved, although there is a $30 admission charge.
All funds raised will be shared among the various development associations of the southern islands, which include the Long Islanders' Association; Acklins Trade & Development, Mayaguana & Crooked Island Development Associations; San Salvador Development Association and the Long Cay & Rum Cay Trade and Development Associations.
According to officials, the concert was the brainchild of musicians Kirkland "KB" Bodie and Baha Men founder Isaiah Taylor.
"Bahamas, this event is not just about the musicians…this event is about the hurricane victims," Mr Taylor said yesterday. "It was them yesterday, it could be either one of us tomorrow. So I would really like to see each and every Bahamian out there supporting this event.
"It's not about us, it's about those people that were affected in the hurricane."
Gina Burrows-Coakley, chairperson for the combined Family Island associations and of the Long Islanders' Association, said she was "speechless" when she was first told of the concert.
"You wouldn't really expect for these artists to stop in the middle of their music productions and their daily lives to do something for free," she said. "A lot of these people we (would) love to get to come when we have regatta, but sometimes realistically the cost of carrying them is just a bit above what we're able to afford at that point.
"So just the mere fact that these same people are, for free of charge, willing to actually come and do this for us to try and help us get funds is really an overwhelming feeling."
According to officials, Zamar Group of Companies will produce the entire show free of charge.
The event has also received government support, with both the Ministry of Tourism and Ministry of Youth, Sports and Culture assisting by ensuring that the stadium could be utilised to hold the concert without cost to the organisers.
Dr Danny Johnson, minister of youth, sports and culture, suggested that the various artists make a live, commemorative CD of the concert, which would allow future generations to understand the significance of the event.
"Let us see if we can get the next generation of young Bahamians to know this story of all these people who came together and why they came together," Dr Johnson said. "We have to get this history right and inspire the next group that is coming. This event, this concert, this story that you embark upon telling, will guide them as to when things get rough again, you go back to the ancient landmarks and this is what you do."
According to officials, tickets are already on sale and can be purchased from Island Cellular, The Seventeen Shop, Checkers Cafe, Airbrush Junkies, Mall at Marathon and Commonwealth Building Supplies.